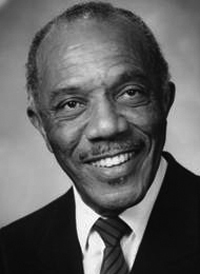 [Augustus Funeral Home]
Augustus Funeral Home regrets to announce the passing of The Hon C.V. 'Jim' Woolridge.
A Home Going service for : The Honourable C. V. "Jim" Woolridge in his 93rd year of 9 Fielders Lane, Flatts, son of the late George and Lillian Woolridge, beloved husband of Roslyn G. Woolridge nee Lowe and father to Annarita Marion [John] and Marcia Woolridge-Allwood, brother to the late Willoughby, Frederick, Henry, Elliston, Harold, Ruth Zuill, Louise Smith, Irene DeRosa and Constance Wilson, will be held at The Cathedral of The Most Holy Trinity, Hamilton Today, September 5, 2018 at 3:00 pm.
Interment will follow the service at St. Mark's Cemetery, Smith's.
In lieu of flowers, donations can be made to Salvation Army.
There will be no viewing.
Lovingly remembered by grandchildren: Justin Marion, Tiffany Allwood, Dominique and Jonathan Marion; sister-in-law: Cynthia Johnson; Jim knew that he was blessed to have a huge family of nieces, nephews, cousins, god children, friends and valued colleagues, special nephews: Rodman and Albert Woolridge; special friends: Samuel Johansen. Leon Blakeney, Tony Correia, Ottiwell Simmons and latterly his care givers at Westmeath.
The Hon C.V. 'Jim' Woolridge was predeceased by in-laws: Henry and Gwendolyn Lowe.