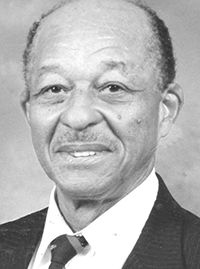 [Augustus Funeral Home and Cremation Service]
Augustus Funeral Home regrets to announce the passing of: – Csgt Cedric Alphonso Tweed.
A Homegoing service for Csgt Cedric Alphonso Tweed. Loving husband of the late Cornelia "Nell" Tweed nee Durham. He is survived by his sons Edgar David Tweed, Aleemuddeen Saiyip "Allen" Bada'a, Robert "Bobby" Tweed. Daughters Cornelia "Tiny" Tweed, Deborah Russell, Penelope Tweed, Kimberley Rose Tweed [Edward], Kelly Gaynell Tweed, the late Peter John Tweed and Bonnie Jean Tweed, brother to Kingsley and Keith Tweed [Pearl], Ismay Sheppard and Barbara Raynor, in his 98th year of 36 Longridge Pass, Devonshire, will be held on Tuesday December 20, 2022 at St. Paul's Church Paget, at 1pm.
Interment will follow at St. Paul's Church Cemetery.
Visitation will be held at Augustus Funeral Home on Today, December 19, 2022 from 6:30pm to 8:00pm.
Lovingly survived by Grandsons: Jelani Tweed, Micah Lee Straw Sr [Lishan] and Lawrence Tweed. Great Grandsons: Micah Jr, Hashim, Beka, Abdy and Addis Straw. Grandaughters : Hadyyah Durrant [Michael], Rayneisha and Rayne'e Tweed. Great-daughter : Mahy Straw.
Special Friends and Family: The Ward Family [deceased Edgar Ward], The Ex- Artillery Family, The Bermuda Regiment Family, Gwendolyn Simmons, Ermintha Swan and Family, The Mouchette Family, Carlton [Bobby] Jones, Rudolph Allen and Family, Troy Lawes, Veronica Caisey, Carol Durham, Derrick Durham [Rikki], Josephine Tucker. Special Families: The Durham, Place and Omara Families and Durrant Family. Predeceased: Brothers: Kenneth, George, Willard James [Jack], Sinclair [Conk] and Vincent Tweed. Predeceased: Brothers in Law: John Roper, Kenneth, Sydney, Donald, Escott Jr. [Decky] and Eldon Raynor Sr. Predeceased: Sisters: Lionie Roper and Mildred Robinson. Predeceased: Sisters in Law: Mildred, Phyllis, Marilyn Tweed, Carolyn Tweed and Betty Durham. Predeceased: Son Peter John Tweed and Daughter Bonnie Jean Tweed. Other families and Friends too numerous to mention. 
Covid-19 precautions and social distancing are to be observed.