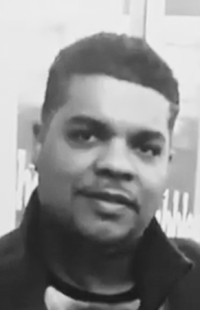 [Augustus Funeral Home]
Augustus Funeral Home regrets to announce the passing of Darren Gavin 'Bull' Bulford.
A Home Going service for Darren Gavin 'Bull' Bulford, son of Andrea Hayward [Anthony] and Garen Bulford [Lilymae], father to Joecoy Burrows, Marquise Bulford, Quadre Lowe, Dhakir Maynard, Darikae Bulford, Andresa Robinson, Chelsea Durham, Genesis Bean, Chinshay Durham, brother to Macray and Tulani Bulford, Nika Mason and Onika Cross, in his 49th year of Roshan House Flat # 7 Nottingham U.K. will be held at St. James Church, Sandys Today, December 4, 2018 at 3:00 pm.
Interment will follow the service at St. James Cemetery.
Relatives and friends may pay their last respects at St. James Church Hall, Sandys Today, December 4, 2018 from 2:00 pm – 2:45 pm.
Lovingly remembered by ex-wife: Meshay Bulford; aunts: Pamela Maybury [Kenneth], Paulmae Riley [Albie], Dianne [Bobby], Jones [Antoine], Sharol Simmons [Melvin], Toinette Lasley [Sam]; uncles: Glen and Stevie Riley, Lionel [Gail] and Melvin [Tina] Bulford; godparents: Erville Ingham, Randolph Woods, Grace James, Shirley Foster; special cousins: Shawn Riley and Kenneth Bulford; special friends: Sergio Burgess and Langston Carriah; numerous grandchildren, nieces, nephews, cousins, god children, and friend too numerous to mention.
Darren Bulford was predeceased by grandparents: Eric and Ruth Riley, Melvin and Iona Bulford; uncles: Garreth Bulford, Eugene and Myron Riley; aunt: Brenda Riley; nephew: Lamont Mason.
Colors to worn.