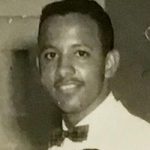 [AMIS Memorial Chapel & Crematory]
With great sadness, we announce the passing of Dennis C. Swan, also lovingly known as "Boots", in Toronto, Canada on 27 October 2018. 
Son of the late William and Phyllis Swan, and special nephew of the late Albert Scott. A graveside service was held at St Mary's Church, Warwick on November 28, 2018 and his ashes interred immediately thereafter.
Dennis is survived by his sisters – Carolyn Swan, Sharon Simmons and Patricia Callender [Jerry],   nephews, great-nieces, close Cousin Millard Lightbourne and other relatives and friends.