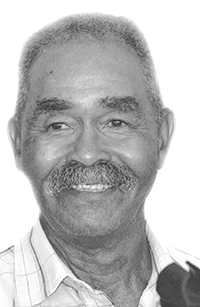 [Augustus Funeral Home and Cremation Service]
Augustus Funeral Home regrets to announce the passing of: – Mr. Eldon Winfield Raynor.
A Homegoing service for Mr. Eldon Winfield Raynor, beloved beloved husband of Mrs. Barbara Raynor [Nee Tweed], son of the late Edwin Harley and Gladys [Seon] Raynor, loving father to Wanda Ray Willis and Eldon W. Raynor Jr., brother to Gladwin, Cyril, Ivan, Leon, Willard, Clayton Raynor, the late Edwin, Villers, Charles, Kenneth, Raymond and Irvin, in his 90th year of 9 Bow Lane, Southampton, will be held at St. Paul A.M.E. Church, Hamilton on Wednesday, November 9, 2022 at 11:00 am.
Interment will follow at St. Annes Cemetery.
Visitation will be held at Augustus Funeral Home Today, November 8, 2022 from 6:30pm to 8:00 pm.
Lovingly survived by granddaughter: Haley Raynor; daughter-in-law: Sonia B. Raynor; brothers-in-law: Kingsley, Keith, Cedric Tweed; sister-in-law: Pearl Tweed; nieces and nephews too numerous to mention; special friends: Coe Winston Trott, Par 5 Golf Club, Glen and Rosemarie Fox, Elliot and Albertha Darrell, Lynnell Furbert, Lynn Gordon, Betty Raynor, John Tucker and family, Rev. Leon Jennings and family, Rev. Howard Dill, Rose Raynor, Port Royal Golf Club, Betty James and Family, Oldie Golden Cricket Club, St. Georges Cricket Club, Southampton Rangers. Special thanks to caregiver Ms. Maxine Burch.
Covid-19 precautions and social distancing are to be observed