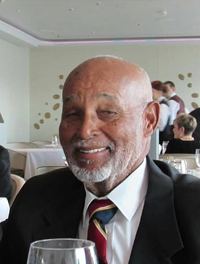 [Amis Memorial Chapel & Crematory]
A service celebrating the life of Mr. Gladwin "Twist" Robinson, beloved husband of Merle Robinson nee Simons, loving father of Shirlene White, Dwayne and Dwight Robinson; grandfather of Latia Robinson, Charmaine and Nathan White, great-grand father of DeVanté and Ahri-Simeon Robinson, in his 84th year of 10 Kilderry Drive, Smiths FL 02, will be held at Bright Temple A.M.E. Church, Spring Hill, Warwick, Saturday, July 14, 2018 at 3:00 p.m. Interment will follow at St. Paul's cemetery.
Visitation: Relatives and friends may pay their respects on Friday evening, July 13th from 7:30 – 9:00 p.m. at Bright Temple A.M.E. Church, Warwick. also at the church on Saturday, July 14th from 2:00 – 2:50 p.m.
Gladwin also leaves to mourn his adopted brother Donald Furbert, in-laws: Melvina Robinson, Sylvia Robinson, June Swan, Lorraine Smith, Agnes Foley, Barbara Smith and Garry [Jean] Simons, god-children Debra Dill and Jill Burt and host of relatives and friends.
In lieu of flowers donations can be made to the Alzheimer's Family Support Group, P.O. Box DV 114, Devonshire DV BX or to Butterfield Bank #20 006 060 900068 100.
Colours may be worn.