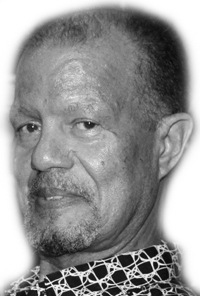 [Augustus Funeral Home]
Augustus Funeral Home regrets to announce the passing of Mr. Herbert George 'Yella' Pearson Sr., husband of the late Janice Pearson, son of the late Gordon and Leona Pearson, loving father to Herbert Pearson Jr. [Gail], Amanda Lowe and Yolanda Hypolite, brother to Richard Pearson [late Ardie], Eugenie Outerbridge [Tommy], Wendy Lambert [Carlton], Elizabeth Stovell, the late Gordon [Pal] Pearson [Phyliis], Phillip Pearson, Kent Pearson; in his 81st year of 1 Yellow Springs, Wellington Hill, St. George.
A Home Going service for Mr. Herbert George 'Yella' Pearson Sr. will be held Today, August 31, 2018 at Seventh-day Adventist Church, St. George at 2:00p.m.
Interment will follow the service at Richard Allen Cemetery, St. George.
Relatives and friends may pay their last respects, Today at Seventh-day Adventist Church, St. George August 31, 2018 from 1:00 – 1:50p.m.
Lovingly remembered by Grandsons: Jon Lowe, Socorin Hypolite, Tafari Hypolite; Grandaughters: Jonea Lowe, Adrianna Lowe, Treasure Hypolite; Great Grandsons: Angel Lowe, Kenshin Lowe, Kojon Lowe, Cole Lowe-Hayling; Great Grandaughter: Xyla Lowe; Nephews: Unray Waldron [Janice], Andre Cuerington [Darcy], Kevin Waldron, Doug Clarke [Kiarra], Gordon Pearson, Juju Waldron, George Richardson, Vaughn Stovell [Deborah], Leslie Pearson [Alisa], Joseph Richardson, Daniel Stovell [Latoya], Carnell Lambert [Gina], Cavin Stovell And Calvin Stovell. Nieces: Calvena Perez, Crystal Parker [Kirk], Kim Butterfield [Shans], Anna Purvis [Robert], Lavonne Johnson [Stanley] and Carla George [Marcus]. Godson: Maclaren Smith; Special Cousin: Clive Burchall, Dennis Wainwright; Special Friends: Albert "Pioneer" Francis, Leroy Frith, Peter Peterson, Louie Ming And Cheryl Gibbons, The Pearson Family, The Wainwright Family, The Fishingden Family, The Richardson Family and The Waldron Family.
Colors may be worn