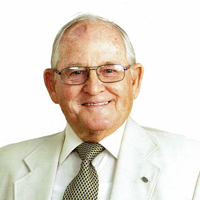 [AMIS Memorial Chapel]
Our beloved Bobby went to be with his Lord, leaving behind his best friend and love of 62 year, wife Shirley.
He was a proud father to son J.E. Rick [Mary] Barton and daughter Laurel [Keith] Madeiros. He will be sorely missed by his wife, children, and his dearly loved grandchildren – Melissa [Dustin] Deacon, Aaron Barton, Heidi [Paul] Heffernan, Stacy [Brent] Finchum, Rachael [Andrew] Peters, and Matthew [Paige] Madeiros. Bobby's 23 great-grandchildren gave him much joy, and he eagerly awaited his 24th. He will also be missed by extended family Josephine Young and Maryann Pearce, as well as his special friend Tony [Audrey] Harkness and his church family.
He was predeceased by his three siblings – Billy, Amelia & Mary. Left is his sister-in-law Jacqueline Barton, many dear nieces, nephews, other relatives and friends.
A service celebrating Bobby's life of 89 year will be held at The Evangelical Church of Bermuda, 1 Mission Road, Paget on Thursday, June 22nd 2017 at 4:00 p.m. Interment to follow at St. Paul's cemetery.
Visitation to pay respects will take place at AMIS Memorial Chapel, 8 Khyber Pass, Warwick this evening only, Wednesday, June 21st from 7:30 – 9:00 p.m.
In lieu of flowers, donations can be made to The Evangelical Church's Missions Account or The Agape House.