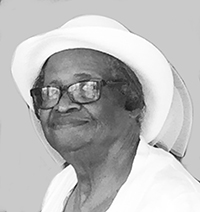 [Augustus Funeral Home and Cremation Service]
We regret to announce the passing of Mrs. Joycelyn 'Sophie' O'Brien.
It is with great sadness that we announce the passing of Mrs. Joycelyn 'Sophie' O'Brien, loving wife of St. Clair O'Brien, daughter of the late Franklin Lewis and Jane-Ann [Virginia] Lewis nee Benjamin, beloved mother to sons Delroy O'Brien, Dennis O'Brien [Carlita], and Robin Munroe, daughter Florence Marva-Jean O'Brien, step-daughter Claire Lightbourne, sister to Maree Baker, Novia June Bridgers, the late Evannie Veronica Smith, Miranda and Doreen Lewis, and Nigel and Raymond Lewis in her 83rd year of 14 Foothills Road, Devonshire.  Funeral services will be held at The Hamilton Seventh-Day Adventist Church, King Street, Hamilton on Sunday, July 18, 2021 at 12.00 p.m.
Interment will follow at The Seventh-Day Adventist Cemetery, St. Georges.
There will be no viewing.
In lieu of flowers, donations can be made to the Hamilton SDA Church's Feeding Programme.
Leaving to cherish a host of memories are her grandsons: Masen and Micah O'Brien, Silverio Munroe; granddaughter: Keisha Lockhart [Dwayne]; great-granddaughter: Maya; niece: Helena Blake; special niece: Patricia Caines and family; godchildren: Treamae Smith [Disney] and Maurice Raynor.  Lovingly remembered by Greta Furbert and family, Delores Price and family, Shirley and Sam Wallen, Dr. Elaine Hodgson, Andre Greene, the Conyers family, the Dillas family, the Bean family, the Spence Family, Patricia Parris and family, her Seventh-Day Adventist Church Family, her Loyal Hill Community Family, the Pink Beach Family, the Hamilton SDA Feeding Programme, and numerous friends and relatives too many to mention. The link for the service are Livestream: https://livestream.com/hamiltonsda/joycelynobrien and YouTube: https://youtu.be/TEFBOygjys4
Covid-19 precautions are to be observed. Mask and hand sanitation will be required and social distancing observed.