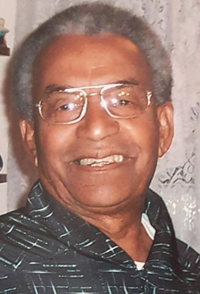 [AMIS Memorial Chapel & Crematory]
A funeral service for Mr. Neal Herman 'Sluggo' Adderley, beloved husband of the late Irene Adderley; son of the late Hilgrove and the late Geraldine Adderley; loving father to Suriellah [Eliyahtsoor] Young, Gillian [Marcel] Dozier, Stuart [Nadine] Adderley, Ralph [Tamara] Adderley, in his 92nd year of 20 Swansbay Road, Pembroke HM 13, will be held at Heron Bay Kingdom Hall of Jehovah's Witnesses, Middle Road, Southampton on Sunday, October 22nd 2017 at 3:00 p.m. Interment will follow at Pembroke Parish cemetery.
Visitation: Relatives and friends may pay their respects on Saturday evening from 7:30 – 9:00 p.m. at AMIS Memorial Chapel, Khyber Pass, Warwick. also Sunday at Kingdom Hall from 2:00 – 2:50 p.m.
He is also survived by his sister, Thelma Batts, grandchildren Rinah[Boaz], Nireeyah[Ofer], Bahteeyah, Crystal, Marcel, Amaya, Aliya, great grandchildren Amishai, Masai, Liel, Ehden and Khayil, and numerous nieces, nephews and other family members and friends here and abroad.
In lieu of flowers, please make donations in his memory to The PHC Foundation, HSBC Account number-010 141513 001. Donations will also be accepted at the wake.