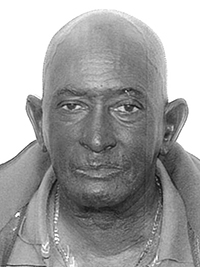 [Augustus Funeral Home and Cremation Service]
Augustus Funeral Home regrets to announce the passing of: – Neville Stanley Reginald Woolridge [Hazel].
A graveside service for Neville Stanley Reginald Woolridge, son of the late Enith Stovell nee Woolridge [George] and Daniel Burgess, father to Neville and Nevillelene Ball, Kishaun Gibbons, [Tracy'Ann] , special daughter Alesha Tucker. brother to Lionel Woolridge, Gladstone, Dalton, Kevin, Steven and Anthony Stovell, Neville and David Glasgow, Marlyn Gibbons, Angela Stovell, Donna Thomas and Ann Raphael, in his 71st year of Ocean Sound, 9 Harrington Court, Smith's, will be held at St. Marks Cemetery, Today, September 29, 2022 at 11am.
Lovingly survived by: grandchildren: Nathaniel, Zurie, Michael, Kailan and Kieshaun Jr.; great-grand: Wynree; aunt: Una Mae Bean; sisters-in-law: Lorraine Woolridge, Jennifer, Jean and Lesley Stovell;
nieces and nephews too numerous too mention; special cousins: Lionel Woolridge and Jeanjaynea Lottimore, Beans and Mussons families and numerous friends; special friends: Stanfield Brangman, Stanley Ward, David Burgess, Wayne Matthews, Eugene Raynor, The late Neville Trott and Jermaine Thomas.
Hazel was pre-deceased by his grandparents: Howard and Josphine Woolridge.
Covid-19 precautions are to be observed and social distancing observed.