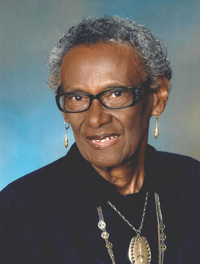 [AMIS Memorial Chapel & Crematory]
A home-going service for Olga Alfreda 'Freda' Furbert [Nee Curtis], daughter of the late Reginald and the late Irene Curtis; loving mother to Oliver [Carol] Furbert, Rafiq [Nasra Aly] Rasheed, Alan [June-Ann] Furbert and PeggyAnn Bean; sister to Ianthia Wilson and sister-in-law of Janette Curtis, will be held on Saturday, November 18th, 2017 at 2:00 p.m. at the Wesley Methodist Church, Church Street, Hamilton.  Interment will follow at Wesley cemetery, Cemetery Road, Pembroke.
Visitation:  Relatives and friends may pay their respects Friday evening, November 17th from 7:30 – 9:00 p.m. at AMIS Memorial Chapel, Khyber Pass, Warwick.  Also at the church on Saturday 18th from 1:00 – 1:50 p.m.
She will be lovingly remembered by her grandchildren LeeAnn Simmons, Troy Furbert, Fioma Furbert, Capucine [Arthur 'Smokey'] Dill, Shawn Fishenden, Yolanda [Craig] Outerbridge, Dion [Alexis] Correia, Kalilah Furbert, Lionel [Shana] Bean, Matthew [Chamika] Furbert, Maryam Rasheed, Alana Furbert, Irven Simmons Jr. and adopted grandson Kenton Swan and loving her great grandchildren.  Special friends Ednamae Jones, Roberta Graham, Freida Dowling, Janet Murray, Colin Smith, Marylou Binns, Joan Talbot; cousin Inez Curtis, Betty Burch, Beverly and Basil Wyse; her numerous nieces, nephews, the Wesley Methodist Church family, her extended family and other dear friends. 
She was predeceased by brothers Reginald Ivan [Milli], Winston [Edith], Oliver 'Tracy' Curtis; sister Valeria [Capt. Edward] Williams and long-time friend Frances Calder.