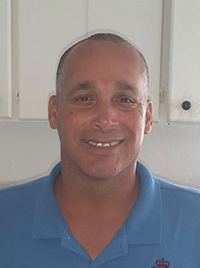 [AMIS Memorial Chapel & Crematory]
A service celebrating the life of Mr. Reginald Eugene "Lucky" Pitcher, son of the late Audrey Irene [Pitcher] "Cherry" Cooper and the late Gladwin "Peter" "Buck" Richardson; father of Krislyn Lambert, Eric Lambert, Reginald Baker, Angelo Smith [Caljonah] and Laurie-Ann Stovell; in his 60th year of #55 West Side Road, Sandy's Parish MA 04, will be held on Tuesday, July 16th, 2019, St. George's Seventh-day Adventist Church at 5pm. Interment will follow at Chapel of Ease cemetery, St. Davids.
Visitation: Relatives and friends may pay their respects this evening, Monday July 15th, AMIS Memorial Chapel, Khyber Pass, Warwick from 7:30pm to 9pm. and Tuesday 16th at the church from 4pm to 4:50pm.
He also leaves to cherish his memory: Grandchildren – Kaiya [Kennia] & Skyler [Shikiyla] Baker; Aaliyah Smith, Znari Smith, Riahz Stovell. Predeceased by grandchildren Na'Zyjè and Azenjè Smith. Special friend – Liz Dill [Shaday, Tajaè, Cashe & Million Dill]. Siblings – Barbara Kay Pitcher, Laura Lee Gee, Sar Amiel Ben Israel "Glen Crockwell", Michael Frost [Jeanne], Calvin Richardson [Joycelyn], Cindy Ingram [William], Johnny Richardson, Steven Lacey [Dorothy Ann], Peter Richardson, and was predeceased by brother Aaron Richardson; numerous dear aunts, uncles, nieces, nephews, cousins. Special cousins – Dean Pitcher, Phillip "Billy Joe" Pitcher, Andrew, Herbie & David Bascome, Lt. Col. Edward "Eddie" Lamb, Allen Richardson and Alvin Pitcher. Other special friends – Wayne "Spike" & Jacobi Richardson, Tonya Swan, Erskin Swan, Vernon Daniels, Joe Davis, Winslow Cameron, Ray Burgess, Al Fox, Aaron Adams, Sammy Robinson, Donald Norford and Donald Baker, and many other friends and family too numerous to name.