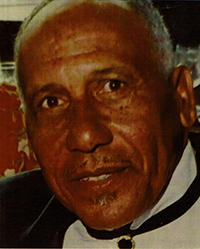 [AMIS Memorial Chapel & Crematory]
A celebration of life for Reginald 'Reggie' Sinclair Matthie beloved husband to Barbara Matthie [neeTatem], son of the late Nestor and Mary Matthie, father to Reginald Matthie Jr., Selena Matthie and Lisa Matthie, brother to Muriel Richardson the late Nestor, Frankie, Edward Matthie, Winnie Street, Joan Matthie and Barbara Walker, in his 87th year, of 9 Quarry Hill Road, Warwick Parish will be held at Hamilton Seventh-Day Adventist Church, King Street, Hamilton on Sunday, January 30th , 2022 at 1:30pm.  Interment will follow at St. James Cemetery, Main Road,Sandys.  There will be no viewing.
Lovingly remembered by grandchildren Selita [Trent] Daniels, Chelsea Crockwell, Chicago, Kaje, Tokeio, Rajul, Nazye, Destiny, Tsion Matthie and the late Ezariah Matthie; Nieces and Nephews Brenda Burgess, Maxine Scott, Verna-Lee Ramsay, Darrin Walker, Claudia Smith, Sandra Outerbridge, Blossom Hawkins, Giselle, Wayne, Frankie Jr., Paula, Douglas and Chrystal Matthie; Great grandchildren and friends too numerous to mention.
Please adhere to Covid-19 restrictions by wearing of mask, hand sanitizing and physical distancing.