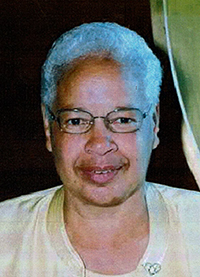 [AMIS Memorial Chapel & Crematory]
A Celebration of Life Service for Roslyn "Tiny" Raynor [née DeRosa], the third daughter of the late Joseph "Joe Burner/Big Daddy" DeRosa and the late Eleanor DeRosa [née Lovell], of 17 Cherry Dale, Smiths FL08, in her 76th year, will be held on Sunday, 7th November 2021 at 1:00 p.m. at the Southampton Seventh-Day Church, 228 Middle Road Southampton. Interment will follow at St. Anne's Anglican Church Cemetery, Southampton.
"Tiny" leaves to cherish her memory, her husband, Lionel Raynor Sr. and sons Anthony and Lionel Jr., her brothers Eldridge [Margaret] DeRosa, Vincent [Janet] DeRosa, Ramon [Diane] DeRosa, Sisters: Delores [George] DeShields, Doris Johnston, Carol [Clyde] Burgess, Joyce DeRosa, Jennifer DeRosa Holder. Sisters-in-Law: Betty Furbert-Woolridge [Edward Woolridge], Janet Williams. Brothers-in-law: Clarence Raynor, Eugene Raynor. Special family: [twin] Roselle "Rosie" Nigg [née Lovell] Raymond Trott, Special Son: Taquindae Hendrickson, Spiritual Daughter: Lois Bean.
She will be fondly remembered by her cousins, nieces, nephews, great nieces, great nephews, great-great nieces and great-great nephews, members of The Seventh-Day Adventist Churches, The Warrenairs, John Smith's Bay-Dawn Swimmers, numerous family and friends in Bermuda and overseas. "Tiny" was predeceased by her sister Jo-Ell DeRosa, brothers Ralph [Janice] DeRosa, Calvin DeRosa, brothers-in-law: Clayton Johnston, Lee DeRosa-Holder.
Colours may be worn.
Please adhere to COVID-19 protocols.
To view the service: www.Southamptonsdachurch.org and also available on YouTube