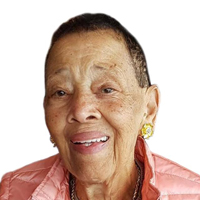 [AMIS Memorial Chapel & Crematory]
A service celebrating the life of Mrs. Ruth Weonna 'Baby Ruth' Dill, beloved wife of Mr. Howard Lawrence Trott Dill, loving mother of Cynthia Cummings [Richard Cummings], the late Lawrence Dill [Karen Dill], Rev. Howard H.L. Dill [Dr. Rev. Emily Gail Dill], and Herman Dill [Dana Dill], in her 86th year, will be held at Mt. Zion A.M.E. Church, Whale Bay, Southampton on Wednesday morning, June 6, 2018 at 11:00 a.m. Interment will follow at St. Anne's cemetery, Southampton.
In lieu of flowers please send a donation to Vernon Temple AME Church.
Visitation: Relatives and friends may pay their respects Tuesday evening, June 5 at Vernon Temple AME Church from 6:00 – 8:00 p.m. or Wednesday morning, June 6 at Mt. Zion AME Church from 10:00 – 10:50 a.m.
Grandchildren: Rev. Jahkimmo Smith [Rev. Lashonna Smith], Diarra Cummings, Imani Cummings, Lorenzo Smith [Martina Smith], Christopher Harrell, LaKaé Tavares [Andrew Tavares], Crystal Dill, LaKai Dill, LaKea Dill, Brittany Dill, Yahnick Barclay, Aleah Dill, Jehkio Bean-Lightbourne. Great-Grandchildren: Justin Smith, Deonae Gibbons, Quaelhun Cameron, Cayden Minors, Laila Smith, Demetri Douglass, Amaiah Tavares, Noah Smith, Violette Suarez Cummings. Brothers: Cecil 'Bill' Smith [Avery Smith deceased], and John Smith [Marilyn Smith]. Niece: Renee Lewis [Jeff Lewis]. Nephews: Darren Smith and Clay Smith, and other dear relatives and numerous friends.
'Baby Ruth' was predeceased by Mother: Pauline Hurst Smith, Father: Christopher Smith, Father-in-law: Hilgrove Dill, Mother-in-law: Juliette Dill, , Aunts: Eleanor Hurst, Mabel Hurst, Ruth 'Big Ruth' Hurst, Yvonne Hurst, Olive Hurst, Nina Hurst, and Uncle: Noel Hurst.