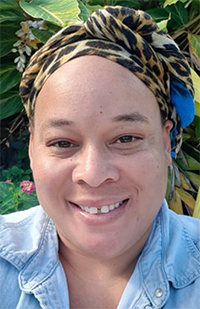 [Amis Memorial Chapel & Crematory]
We regret to announce the passing of Mrs. Sarah Simone Trott, beloved wife to Jucal Trott; loving mother to Damany Burchall and daughter of Thomas Lewis [CT. USA] and Patricia Lewis [CT.USA- mom] and Debra Burgess of # 9 Anchorage View Road, Ferry Reach, St. George GE 01 in her 40th year.
A memorial service celebrating Sarah's life will be held on Saturday 3rd October, 2020 at 5:00pm at the Botanical Gardens, South Road, Paget.
She leaves to cherish her memory brother Cole Simmons; sisters: Marcia Burgess [Temiko], Andrea Lewis and Beth Mendoza [Mario]; aunts, uncles, nieces, nephews, cousins and friends too numerous to mention.
Colours may be worn. Limited seating – bring a chair