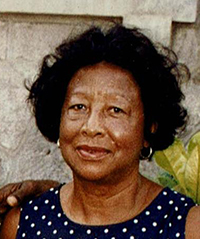 [AMIS Memorial Chapel & Crematory]
A funeral service celebrating the life of Thelma Celeste "Sally" Dickinson [Nee Simons] beloved wife of Humphrey Randolph Dickinson beloved mother of Debra Paynter [Richard] and the late Randolph William Dickinson in her 86th year of Sunset View Rest Home and formerly of "Dana Hall" 53 North Shore Road Pembroke HM 07, will be held at Bright Temple AME Church, Spring Hill Road Warwick at 11:00 am on Friday, 11 January 2019. Interment to follow the service at St. Mary's Church, Middle Road Warwick.
Visitation: Relatives and friends may pay their respects on Thursday, 10 January from 7:30 – 9:00 pm at AMIS Memorial Chapel, Khyber Pass, Warwick, and at Bright Temple AME on Friday, 11 January from 10:00 am – 10:50 am.
Thelma is also survived by her grandchildren Kyhan Smith [Tara], Latanya Carmichael [Jamie], Sean Dickinson [Renee], Angela Dickinson, Keenan Paynter, Amber Paynter-Bradshaw, Jules and Jayde Dickinson; great-grandchildren Maceo, Malia, Noah and Tikoa; sisters Dorothy Bean [late Naurice] and Wilbur "Sis" Simmons [Ephraim]; sister-law Joan Simons [late Raymond]; nieces and nephews and numerous other relatives and friends both here in Bermuda and abroad. Thelma was predeceased by her siblings Gladys McMillan [John], Arlene James [Arthur], Alice Rawlins [Edward], Beryl Gilbert [Thomas Minton Sr.], Raymond and Carl Simons and in-laws Gloria Bascome [Nelson] and Sheila Swan [Ivan].