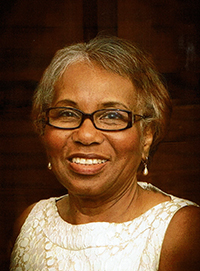 [AMIS Memorial Chapel & Crematory]
We regret to announce the passing of Vilma Janette Nelson Stokes, of 1A Unit 71, Shelly Hall Drive, Hamilton Parish CR01 in her 82nd year. Vilma was the beloved wife of Joshua Gilmore Stokes [deceased], daughter of Thelma and Edward Harris [deceased].
Vilma is survived by her children, Derek, Deborah [Jerome Stovel], Dionne [Gregory Wade], Wayne, and Lester [AprilSimmons]; special daughters Paula Nelson and Maria Nelson; grandchildren, Alaina, Jordan, Gordon, Denzil, Aaron, Nicole, and Marcus; step children Michael [Ellen], Michelle, Thomas [Elizabeth], John [Chenneta], Robert [Kathy], Telana; step grandchildren including Laura [Robbie] and Sarah; siblings, Junior [Bubba], Gerald [Beatrice], Ronald [Delores], Sheila [Bob], Gloria-Jean, Valerie and Philip [Ernestine]; brother in law Robert; nieces, nephews and numerous other family; Ivan Nelson and special friends Ann Curtis, Janet Douglas, Rose Steede and Sheila Tyrell.
In keeping with COVID-19 restrictions, a private graveside homegoing service was held for Vilma on Saturday January 23rd at the Pembroke Cemetery.
The family would like to express gratitude for your love and care shown towards Mom and for your support during her illness.  Thank you for your prayers, encouraging words, phone calls, flowers, donations and the many other expressions of kindness shown towards Mom and her family.
Special thanks go to the P.A.L.S. cancer care team, in particular, Dr. Alikhani, Nurse Waynette, Nurse Rosa, care giver Rose and to Mom's very special neighbor, Moira Lindo. We cannot mention everybody by name, but you know who you are … thank you for loving Mom.  God bless you.
In Lieu of flowers, please support P.A.L.S. They are an amazing organization that supports people who have been diagnosed with cancer.
Donations can be made via the P.A.L.S website www.pals.bm, Registered Charity #171