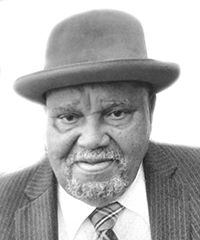 [Augustus Funeral Home and Cremation Service]
Augustus Funeral Home regrets to announce the passing of Mr. Vincent Hilgrove [Butcher] Ratteray.
A homegoing service for Mr. Vincent Hilgrove [Butcher] Ratteray, in his 89th year of 41 North Shore Road, Pembroke, beloved husband to the late Janel Rosemarie Ratteray [nee Gilbert], son of the late Ivan [Cat] and Harriett Ratteray, loving brother to Elroy Vincent Ratteray [Connie], Quinton [Judy] Ratteray, Ruth Galloway [late Edmund 'Willie'], Glenda Montague [Barry], Wilma Lottimore [Leroy], Sharon Williams, the late Howard [Bobby], Raymond, Calvin, Michael Ratteray [Amanda] and Amy [Tiny Ray] Stovell will be held at St. John's Church on January 23, 2023 at 11:00am.
Interment will follow at St. John's Cemetery. There will be no viewing.
Lovingly survived by special nephew E. George Smith [Penny]; brothers-in-law: Stan [Sandra] and Sinclair Gilbert; numerous nieces and nephews, great nieces and nephews, cousins, godchildren; special friend Matie Crockwell and family, members of the various lodges, numerous other relatives and friends.
Covid-19 precautions and social distancing are to be observed.