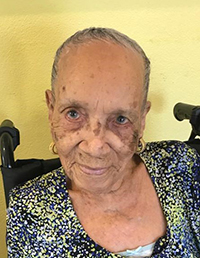 [AMIS Memorial Chapel & Crematory]
It is with sadness that we announce the passing of Winifred "Winnie" Louise Smith in her 106th year, daughter of the late Willoughby Ashton Smith and Edna Amanda Smith [nee Hayward]. Winnie is survived by daughter Thelma Wynn, granddaughters Corlette Schuler and Kathy Lipp [Gerhard], great-granddaughter Casey Schuler, and brother Alvin Smith.
Winnie was pre-deceased by son Rowyn Webster Smith, siblings Howard Hayward, Wilfred Smith, Geraldine Trott, Cora Burchall, George, Henry "Beardy", and Allard Smith, nieces Suzette [Smith] Wales, , Sybil Fraser, Natalie Degraff and Pearline Smith, nephew Lawrence "Texas" Smith, son-in-law Bryan "Silver" Fox, and grandson-in-law Christopher Schuler.
Winnie leaves behind nieces and nephews Calvin "Bluie," James "Sefus," Paulette, and Karen Smith, Antoinette Parfitt, Bernadette and Corey Smith, Roseanne Carey, and Joseph Hayward, as well as numerous great- and great-great- nieces and nephews.
Winnie will be lovingly remembered by her many Bingo friends from the local community clubs. She will be missed by her neighbor Charles "Bobsy" Robinson [Nesta] and family, as well as all neighbors and friends of Claytown.
A special thank you to Westmeath Residential & Nursing Care Home staff for their kind and caring service.
A Celebration of her life will be held at Crawl Gospel Hall Church, North Shore Road, Hamilton Parish on Saturday, March 25th 2023 at 2pm. Interment at Holy Trinity Cemetery, Holy Trinity Road, Hamilton Parish will follow the service. There will be no viewing. Bright colors are encouraged. In lieu of flowers, donations in her memory may be sent to Westmeath fund at HSBC 010-035723-011.