Medals Won at the Commonwealth Games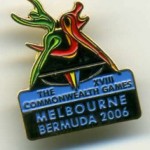 Since competing in the first Commonwealth Games in 1930, Bermuda has won a total of five medals. Initially called the British Empire Games,the name change came in the 1950′s.
With one gold and two silver and bronze, Bermuda has won five Commonwealth medals.
Clarence "Nicky" Saunders is our most successful Commonwealth athlete. He is the only Bermudian to medal twice, as well as the only Bermudian to win a gold medal.
Medal Winners
1966 John M. Morbey won a silver medal in the men's long jump [7.89m]
1982 Nicky Saunders won a bronze medal in the men's high jump [2.19m]
1990 Nicky Saunders won a gold medal in the men's high jump [2.36m]
1994 Brian Wellman won a bronze medal in the men's triple jump [17.00m]
1998 Men's Doubles Ten Pin Bowling Team won a silver medal [3329 points]
1986 Boycott
Bermuda appeared in the Opening Ceremony, but joined in the boycott of the 1986 Commonwealth Games. In addition to Bermuda,  a large number of African, Asian and Caribbean countries also boycotted.
Reports say that the games ended up as "almost to a whites-only affair."
32 of the 59 Commonwealth nations due to take part boycotted the Games, in protest over the British Government's attitude towards British sporting links with apartheid-era South Africa.
Amount of Nations
There are currently 53 members of the Commonwealth of Nations, and 71 teams participate in the Games. The four constituent countries of the United Kingdom [England, Scotland, Wales and Northern Ireland] send separate teams to the Commonwealth Games, unlike at the Olympic Games, where the United Kingdom sends a single team.
Individual teams are also sent from the British Crown dependencies [Guernsey, Jersey and the Isle of Man] and many of the British overseas territories including Bermuda.
The Australian external territory of Norfolk Island also sends its own team, as do the Cook Islands and Niue, two states in free association with New Zealand.