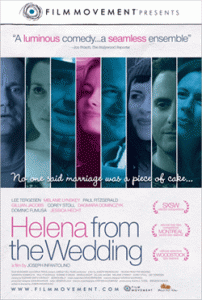 Bermuda International Film Festival [BIFF] will host a screening of "Helena from the Wedding" on February 17, 2011, at 6:30 p.m. as part of its monthly film series, BIFFlixs. The film will be shown in the Tradewinds Auditorium at Bermuda Underwater Exploration Institute [BUEI] on Crow Lane in Hamilton.
The film tells the story of newlyweds, Alex and Alice, who are hosting a weekend-long New Year's Eve party for their closest friends at a remote cabin in the mountains. They expect Alex's best friend Nick, newly separated from his wife, to show up at the cabin with his girlfriend Lola. Alex and Nick's childhood friend Don is also set to arrive with his wife of many years, Lynn, as are Alice's pregnant friend Eve and her husband Steven.
Any thoughts of a perfect weekend are quickly thrown out the window as Nick arrives with only a cooler of meat and the news that he and Lola have recently called it quits. Don and Lynn show up deep in an argument. Finally, Eve and Steven make it to the cabin with a surprise guest in tow—Eve's friend Helena, who was a bridesmaid with Alice at Eve's wedding. With tensions running high at the cabin, Alex tries to approach the young and beautiful Helena. When she rebuffs him, Alex becomes unhinged. He seems to forget about his new wife and the life she represents, and instead begins to wallow in the fact that nothing seems to go right for him. As it creeps closer to midnight, Alex and Alice must keep the evening from spiralling out of control and their own marriage from coming unglued. We realize that nearly everyone in the group of friends isn't who they appear to be—deep down, they all are a little lost in the world.
Tickets are available in advance on www.premierticketsglobal.com or at the door on the day from 5:30 p.m. Tickets are price at $9 for BIFF and $13 for non-members. For reservations or enquiries email info@biff.bm or call 293-3456. Running time: 89 minutes. Rated NR.
Read More About
Category: All, Entertainment, Films/Movies