February 23rd saw Tomorrow's Voices Autism hold its sixth monthly workshop in its year-long Training Institute.
The 2-hour workshop titled "Youth with Hidden Disabilities and Their Involvement with Juvenile Justice Systems" covered how school failure is intricately linked to subsequent involvement with the police, courts and future incarceration. It also exposed how youth with hidden disabilities and other learning problems often experience school failure.
The workshop approved by the Bermuda Educator's Council for professional development credits was held at the Bermuda College and saw over 40 persons participate. Dr. Kimberly Mills, Executive Director of Tomorrow's Voices, discussed research related to risk and resilience as well as the correlations between having a disability and also being court involved.
She discussed the phenomenon some researchers have dubbed as "The School to Prison Pipeline" and presented data and outcomes related to a 1999 Reading Clinic study on the issue of literacy that took place in Bermuda's prisons.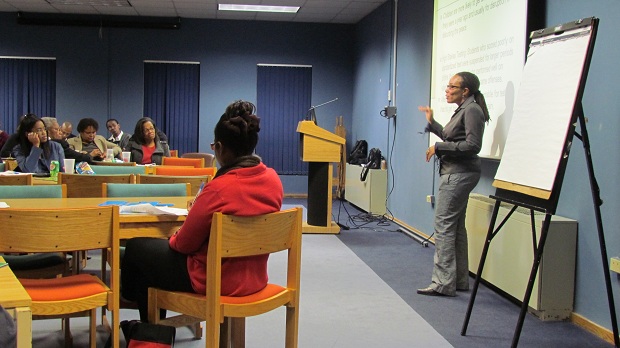 Dr. Mills stated that "One common denominator among adult prison inmates both in America and Bermuda is their low levels of literacy. Both countries average approximately 70% illiteracy rates in terms of the basic levels of literacy necessary to help them function in an emerging global society."
She continued that "Even though communities and youth may face serious social challenges and obstacles, one of the best things we can do to ensure that these youth not only survive, but thrive is to make sure that they are strong readers by the end of the third grade (ages 8 to 9). Early intervention is the key to most educational challenges. It is also important that every young person, especially those at risk for problems, has at least one person in their life to guide and support them in a mentorship capacity. Being literate and having a mentor are powerful protective factors that can deter a young person from future delinquent behaviour."
Attendees at the workshop ranged from those in the education system to those involved with the police and court systems. One participant commented on the workshop's "…relevancy to local challenges and how literacy rates relate to incarceration." Another participant remarked that the workshop "reinforced the importance of learning to read well" while someone else felt that "the presentation of relevant statistics with serious impact on educational decision-making" was eye opening.
At the conclusion of the workshop attendees had developed an appreciation for the hidden issues that might be affecting a child who is acting out or in trouble with the law.
Tomorrow's Voices Chairwoman, Mrs. Erica Smith, stated that "The workshop was another excellent opportunity for
educators to learn the intricacies of children with learning differences and special needs and highlight that sometimes what one sees is not necessarily the whole picture. We appreciate the opportunity to partner with the Bermuda College and the Reading Clinic on bringing these learning initiatives forward."
The next training in Tomorrow's Voices' Training Institute will be held on Wednesday, March 23rd, 2011 and is titled "Natural Environment Teaching (NET)". Participants will be able to learn how using NET techniques can produce positive learner outcomes. They will also be able to learn how practitioners can use the natural environment to improve outcomes for youth with disabilities and other learning challenges.
Tomorrow's Voices has decided to hold a special workshop in April aligned with promoting Autism Awareness Month. The 4-hour workshop titled, "ABA in the Classroom", will be facilitated by Ms. Marietta Janecky BCBA, consultant from the internationally-renowned Carbone Clinic and will provide detailed, hands-on techniques and strategies for educators and professionals working with children with autism and other developmental and behavioural challenges.
Anyone interested in attending future workshops should contact Dr. Kimberly Mills at 297-4342 or email tomorrowsvoices@northrock.bm
Read More About
Category: All