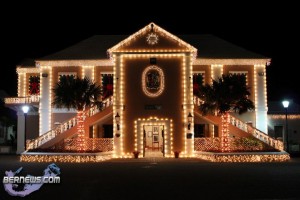 There will be a hot time in the Olde Towne on New Year's Eve as a group of volunteers has stepped in to save St. George's annual festivities.
East End citizens and businesses determined to draw more people to recession-ravaged St. George's have ensured the traditional New Year's Eve event will take place through their donations and manpower and are hoping Bermuda residents will travel to the historic community to bid farewell to 2011.
"New Year's Eve in the Olde Towne will take on an artistic vibe this year as Water Street becomes an outdoor photographic art gallery," said a spokesman for the organisers. "Local photographers will project images of their work onto some of Bermuda's oldest buildings allowing visitors to the East End to walk through a gallery where images are evolving as they walk.
"For those who want a more traditional and family oriented St. George's New Year's Eve there will be all-ages festivities on King's Square and Ordnance Island. A kiddies area complete with rides, bouncy castles, face painting and a mechanical bull ride will be set up for younger revellers from 7:00 p.m. onwards."
There will be dancing on King's Square to with the Working Title Band featuring Lamont Robinson and The Reality Sound System beginning at 9 p.m. Fire Eaters will mark the approach to midnight and bagpiper David Frith will pipe in the New Year complete with the traditional Onion Ball drop. A 15-minute laser light show will mark the start of 2012.
"Revellers can take in the photographic show and enjoy dinner at Wahoo's Bistro and Patio, Tavern By the Sea, Polaris at Carriage House or Griffin's Restaurant at the St. George's Club which will be serving some exciting dishes for New Year's Eve," said the spokesman. "There will be tasty tid-bits, a bar and vendors on Ordnance Island."
Those who decide to keep on partying until the wee hours are being encouraged to stay the night in the East End to avoid the drive home. Some rooms are still available at Rosewood Tucker's Point, the St. George's Club and a number of bed and breakfast operations in the East End.
Sweet SAAK bakery — located at CV Cafe on Water Street — will offer cod-fish breakfast after midnight and Polaris will be serving a special brunch on New Year's Day.
Schedule of events – St. George's NYE 2011 [times are approximate]
6:30-9:00 Water Street Photographic Exhibit
7:00-11:00 Kids Zone
9:00- 9:30 DJ & visit from the classic motorbikes
9:30-10:30 Band Set #1
10:30-10:45 DJ
10:45-11:35 Band Set #2
11:40-11:58 Fire Act
Town Crier's Countdown to Midnight
Onion Drop
Auld Lang Syne on Bagpipes
12:02 – 12:20 Laser Light Show for 15 minutes
12:20-1:00 DJ
Donations and or help received from:
Anderson Family from St. George's
Bermuda Linens & Gifts
Bermuda Perfumery
Bermuda Yacht Service
Book Cellar
Burrows and Lightbourn
Chalkboard Advertising
Chris Dawson Fine Art Studio
Churchill's
Corporation of St. George's
Conscious Vibes & CV CAFE
Crissons Jewellers
East End Flower Alley
East End School
English Sports Shop
EEZA
Francis Patton School
David Frith
Theresa Gibbons
Charles Gosling
Great Sound and Lighting
JW B Seasons
Meyer Group of Companies
Peniston Brown Perfume Shop
Polaris at Carriage House
Robertson's Pharmacy
Rosewood Tucker's Point Club
Somer's Supermarket
St. George's Club
St. George's Prep School
Sweet Saak Bakery
George Sutherland
Tavern By The Sea
Tranquil Spa & Beauty
Wahoo Bistro & Patio
Read More About
Category: All, Entertainment