The Bermuda National Trust hosted the Annual Children's Nature Walk at Spittal Pond yesterday [Feb.14] between 9:30am and 12:30pm.
Children and parents had the opportunity to experience nature first hand on the walk, as well as witness some of Bermuda's cultural landmarks while they heard fascinating stories from the past.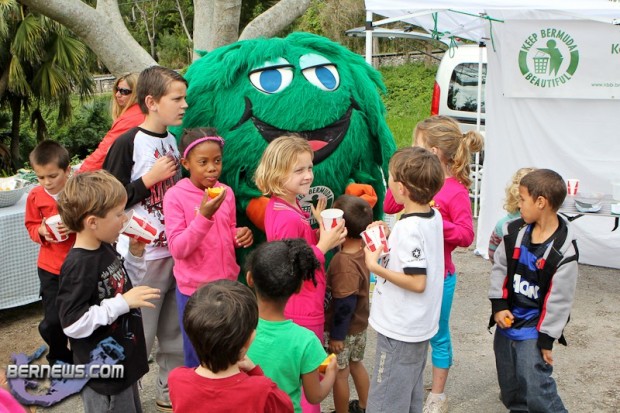 Groups were taken along the route by the Trust's enthusiastic guides, stopping at points of interest to learn about the plants and wildlife of the pond and forest from the island's leading environmental and cultural experts.
One group was joined by Governor Sir Richard Gozney and guided by Bermuda National Trust President Lt. Col. William White.
Video interview below with Cedarbridge Academy volunteer student guides and Jennifer Gray, Bermuda National Trust Executive Director.
This year local experts along the walk included scientists Mark Outerbridge and Dr. Jamie Bacon from Bermuda Zoological Society explaining American eels and threatened toad, Dr. David Wingate, Bermuda's first Conservation Officer, sharing his insight on the birds at the Pond and Thaao Dill telling the story of Jeffrey, the escaped slave who hid in a cave at Spittal Pond.
Filmmaker, Milton Raposo, discussed the cultural story and significance of Portuguese Rock, formerly known as Spanish Rock, Rob Chandler explained the geography of the checkerboard and the power of natural forces and the Audubon Society helped youngsters study birds with binoculars.
Groups left in 15-minute intervals and walked through the nature reserve stopping at stations along the way.
Light refreshments were provided at the end of the walk where KBB mascot, The Litter Critter, greeted the walkers.
Read More About
Category: All, Environment