The Ministry of Business Development and Tourism and Business Bermuda are leading a trade delegation to two of Asia's leading financial centers, Singapore and Hong Kong.
The delegation has just completed the Singapore stage of their Asia tour having attended the Shorex Wealth Management Forum 2012 on May 22-23 where Business Bermuda was a sponsor. Wayne Furbert, Minister of Business Development and Tourism, and Ms. Cheryl Packwood, CEO of Business Bermuda, both presented at the Shorex Conference.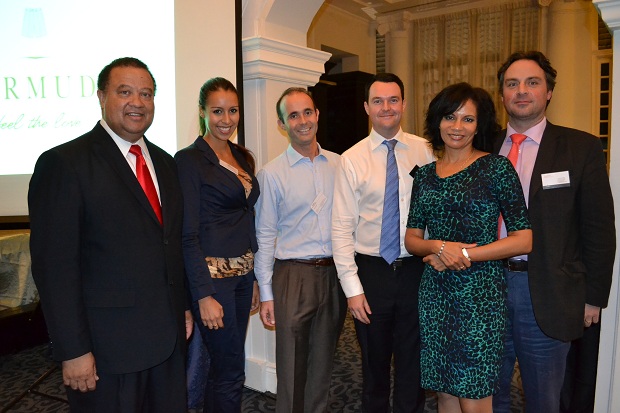 On May 24 Minister Furbert and Cheryl Packwood, together with Peter Hughes, President and CEO of Apex Fund Services, gave presentations at the Fourth Annual Bermuda Financial Services Reception Singapore held at the iconic Singapore Cricket Club.
"This year's reception was probably our best event ever worldwide. Minister Furbert and I presented to over 150 people, all of whom were key decision makers", said Cheryl Packwood, CEO of Business Bermuda after the Singapore reception.
During her presentation, Ms. Packwood highlighted that Bermuda and Singapore both have vital roles to play in the new global economy. "Bermuda is a gateway between the US and the UK, Europe and Asia. Singapore is one of Asia's leading financial centers. The relationship between the world's two major powers, America and China, will affect businesses everywhere. Bermuda and Singapore have an increasingly important role to play in this relationship."
Minister Furbert declared: "I fell in love with Singapore and all its potential for the world and Bermuda. I intend to return in the near future to build on the success of this visit. I was very impressed with the regulations, cleanliness, and extraordinary and forward thinking development of this jurisdiction. I want to thank Business Bermuda for all its hard work on pulling this program together."
During the standing-room only reception, Minister Furbert presented on the theme Bermuda: Ready to Soar. The Minister also raffled three round trip tickets to Bermuda.
The winners were: Florent Robineau of Red Cliffs Capital Florent, Deborah K. Zilian of Wealth-X, and John Sampson of JBS Investments. Minister Furbert then proceeded to perform a rendition of "Bermuda is Another World."
Minister Furbert and Ms. Packwood continue their Asia tour arriving in Hong Kong for the Bermuda Financial Services Reception on May 28 where they will present to over 100 business leaders at the Grand Hyatt Hong Kong. They will also speak to some of Hong Kong's top media outlets including the South China Morning Post and the Hong Kong Economic Times.
Commenting on the Asia tour so far, Ms. Packwood said: "We are delighted to have enjoyed such a warm welcome in Singapore. We are looking forward to being in Hong Kong again. It is important for Bermuda to be here in Asia's leading financial centers to ensure financial service professionals and business leaders in the region are aware of the benefits Bermuda has to offer in this competitive market."
This will be the final stage in an extended Asian tour which has seen Business Bermuda lead delegations to Shanghai and Beijing for the first time before returning to Singapore and Hong Kong.
Read More About