With the final race of the Olympic triathlon qualification series on Saturday, Bermuda's Tyler Butterfield cemented his position as one of the world's top short-course triathletes, confirming his place on the start line at London's Summer Games. This will mark Butterfield's second Olympic appearance; he also competed in 2004 in Athens where he finished 35th.
In the Olympic qualification rankings, Butterfield sits 45th out of 55 men headed to London. With a 25th place finish at the ITU World Championship Madrid race on May 27th, Butterfield maintained the position he earned through his notable performances at the ITU Triathlon World Cup Ishigaki where he finished 7th and the ITU World Cup Huatalco where he claimed 4th.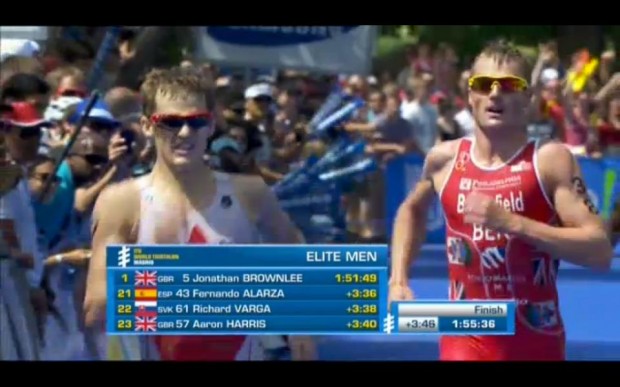 "I went into Madrid somewhat fatigued, having ramped up my training in the prior weeks knowing that I would likely make the Olympic team," said Mr Butterfield.
"While I always want to bring my best to each start line, I also have to keep myeye on the big picture goal, and the timing now is critical in terms of the work I need to put in for London.
"I continued training heading into the final qualification race, but made sure that my race day efort was enough to solidify my Olympic spot. I'm thrilled that I was able to make the team, and hopefully my strategic plan and training program will pay of at the Games!"
Mr Butterfield will join countrywoman Flora Dufy, also a two-time Olympian, in their bid for a Bermudian Olympic triathlon medal.
"While I was fairly confident I would get the job done, you never know until you reach the finish line and the final rankings are confirmed," said Mr Butterfield.
"And although I had anticipated that moment, nothing quite prepares you for the emotion of being told, ofcially, that you're an Olympian. It's pretty overwhelming – and pretty wonderful.
"I'm honored to represent Bermuda and I hope to use my experience from Athens, paired with a solid season of training and racing, to put forth my finest performance to date."
Mr Butterfield will now return to his U.S. home in Boulder, Colorado to focus on the final nine weeks of preparation for London and to revel in the support of his family, wife Nikki and daughter Savana.
His program includes racing the Philadelphia Insurance Triathlon on June 24th and potentially the Dextro Energy Triathlon Hamburg (an ITU World Triathlon Series race) on July 21st.
Mr Butterfield said he "looks forward to flying the Bermudian flag on the world stage."
Read More About