Minister of Business Development and Tourism Wayne Furbert joined dignitaries in New York City to honour the charitable work of American John "JBL" Layfield.
Mr Layfield, best known as a former WWE professional wrestler, entrepreneur and host of the Fox Business Network's "Cashin' In" programme, helped found the charitable Beyond Rugby Bermuda organization to benefit children on the island, and can often be seen out coaching the young players and is also known to help them with their homework and other matters.
Director of Tourism Billy Griffith, Mr Layfield, Minister Furbert: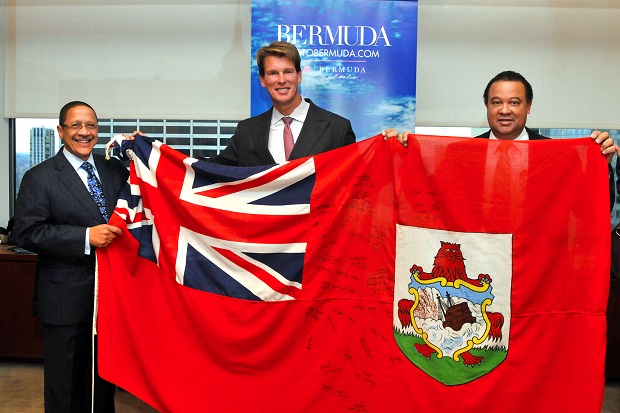 His latest effort will be the "Seven Summits Bermuda Challenge" in which the 45-year-old athlete will be attempting to plant a Bermuda flag on the top of the highest peak of every continent in an effort to raise money for kids in Bermuda through the Family Centre. This will take place over a 2 year period.
TMZ reported that the WWE is sponsoring the trip — which could cost upwards of $250,000 — and will help get the word out across their social media platforms.
Mr Layfield told TMZ that he "hopes conquering legendary peaks like Everest and Kilimanjaro inspires the kids in Bermuda to know anything is possible."
According to Minister Furbert, Mr Layfield's efforts are truly inspirational. "John Layfield is a strong man," said Minister Furbert. "However, his is not only a physical strength, but a strength of heart and character.
"He has become both an advocate for the families of Bermuda and an ambassador for the island itself. His love and passion for Bermuda is inspiring and we are proud to honour him for his efforts."
Minister Furbert, Mr Layfield, Mr Griffith: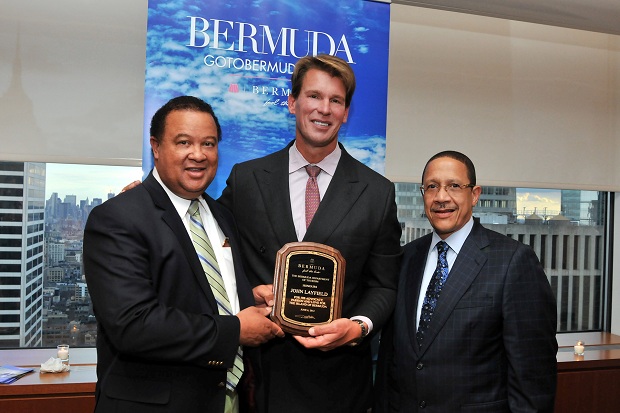 Minister Furbert presented Mr Layfield with a plaque that commemorated his accomplishments while celebrating his upcoming journey during a special event held at Marsh & McLennan Companies in New York City.
The plaque reads: "The Bermuda Department of Tourism Honours John Layfield: A true ambassador for his Advocacy, Passion and Love for the island of Bermuda."
"We hope John's efforts and advocacy on Bermuda's behalf not only inspire Bermudians, but the entire world," said Minister Furbert.
Read More About