The Bermuda Economic Development Corporation [BEDC] announced that registration has opened for its 'Entrepreneurship 101' course, with the eight-week programme to run from August 26th through October 14th.
A spokesperson said, "Registration is open, and enrollment has begun for 'Entrepreneurship 101', an entrepreneurship education course hosted by the Bermuda Economic Development Corporation [BEDC]. The Entrepreneurship 101 course provides new and aspiring entrepreneurs with the knowledge, tools and resources needed to start their businesses successfully. Participants can expect to walk away with an understanding of the basics of small business management and how to create an effective business plan.
"The eight-week programme will run from August 26th through October 14th, with a once a week session every Thursday from 6pm – 8pm. The course will be facilitated by Ray Lambert, BEDC's Director of Micro, Small & Medium Enterprises. "
Mr Lambert said, "When putting together the syllabus for this course, we kept in mind some of the major challenges faced by entrepreneurs on the Island. At BEDC, we meet with business owners on a regular basis, so I am aware of how difficult it can be to set up and operate a business in Bermuda. Entrepreneurship 101 is a great way to get a handle on the process."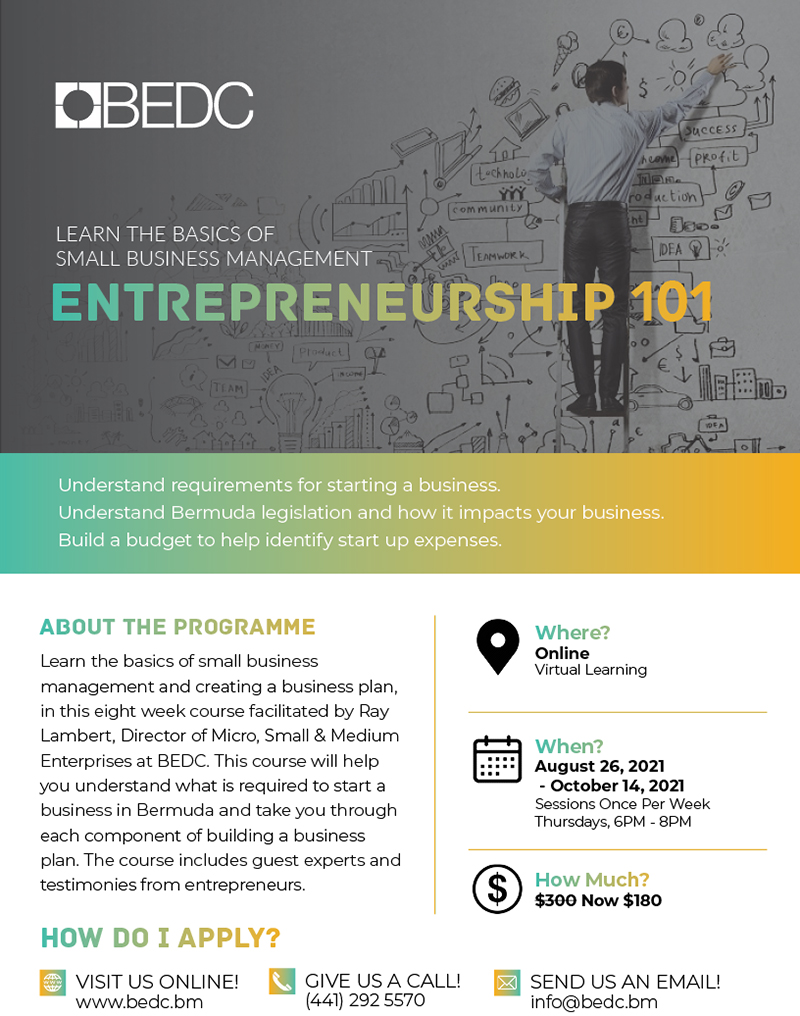 Entrepreneurship 101 will cover the following topics:
Making the decision to start a business;
Validating your product or service;
Writing a business plan;
Understanding Government obligations;
Knowing the cost of your business;
Funding your business; and
Marketing, Operations, and Human Resources.
Past student, Gwendolyn Creary encourages all aspiring entrepreneurs to invest in their learning and development by taking the Entrepreneurship 101 course.
She said, "Entrepreneurship 101 was one of the significant turning points in my entrepreneurial journey. It was comprehensive, and nearly impossible to read all of the resources completely each week, but I had the comfort of knowing that they were always at my fingertips.
"Nearly each week, an expert in a particular aspect of setting up a business was invited to present on their expertise and be an industry contact. Erica and Raymond, with the challenge of pivoting to a virtual platform, created an inspiring atmosphere. They provided opportunities for participants to be supported and valued no matter the stage of their journey as an entrepreneur."
The BEDC added, "Entrepreneurship 101 aims to help entrepreneurs enhance their business knowledge and guide them through what can seem like a daunting process. The more knowledge they have, the easier the process, and the faster they can begin business.
"The Entrepreneurship 101 Course will be taught virtually via Zoom on Thursdays from August 26th to October 14th from 6pm until 8pm. The course usually costs $300, however it has now been reduced to $180. For more information or to register for the course, please visit www.bedc.bm; email info@bedc.bm or call 292-5570."
Read More About