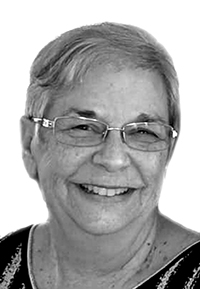 [Augustus Funeral Home and Cremation Service]
We regret to announce the death of Mrs. Deborah L. Morris nee Adderley beloved wife of Douglas "Blip" Morris of 'Happy Home Lower Apt.', 10 Third Avenue, Shelton Road, Devonshire, in her 76th year.
A celebration of life will be held at St. John's Church, Pembroke Today, March 17, 2023 at 3 pm. Interment will follow.
She is survived by her son, Mark [Sarah] Morris; daughter, Lori [Charles "Poochie"] Symonds; granddaughter, Jordyn Morris; grandsons, Cameron, Ayden and Daniel Morris. Also survived by her sister, Connie [Steve] Marklew; brother-in-law, Donald [Linda] Morris, sisters-in-law, Diana [John] Plested, Kyle Morris, Laurie Morris. Nephews, Jason [Kate]; Kevin [Stacey] Kyme; Gary [Daniella], David [Ann], Brucie [Sherry], Martin, Alex [Peyton] Morris; nieces, Karyn [Bernie] Watt; Andrea Parker; Stephanie Morris; Laurie A. Morris. Special families and friends; the Adderley, Morris and Ray families; Oil Management Services family, Johnson and Higgins family; David and Carole Exell; Noreen Howard; Bill and Linda Williamson; Edward 'Tinty' Ming, MSA Class of 1966 and other relatives and many good friends too numerous to mention. Debbie was predeceased by her parents P. Herman and Lorraine Adderley, brothers-in-laws, Dennis, Bruce and Derek Morris, Nephews, Ken Parker and Brian Morris and niece, Denise Morris.
There will be no viewing.
In lieu of flowers, the family request that donations in her memory be made to Bermuda Heart Foundation, Suite 1189, 48 Par-la-Ville Road, Hamilton HM 11 and/or Bermuda Stroke and Family Support Association, Seven Seas, 6 Rock Garden Lane, Smith's Parish FL 06.
Colors should be worn.