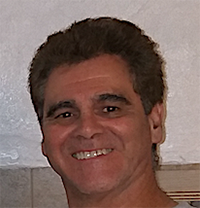 [AMIS Memorial Chapel & Crematory]
We regret to announce the passing of Patrick 'Andrew' Lema on Tuesday, 16th May 2023. Andrew was the beloved life partner to Lisa Sharples; beloved brother to Frank Lema, Raymond Lema [Josie] and David Lema [Donna]; sister Roseann Courtney [Richard], beloved uncle to Jennifer Alexander, Tracy and Scott Courtney. Andrew was a kind and beautiful soul; he will be dearly missed and fondly remembered by his family, friends and colleagues. He was preceded in death by his father Frank and mother Rosalind Lema.
A celebration of life ceremony will be held at St. Anthony's Roman Catholic Church, Middle Road, Warwick on Thursday 25th May 2023 at 11:00am. Interment to follow in Calvary Roman Catholic Cemetery, Roberts Ave., Devonshire. There will be no viewing.