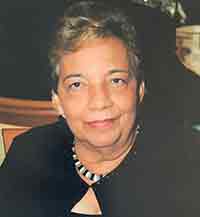 [AMIS Memorial Chapel & Crematory]
A funeral service celebrating the life of Bridget Veronica Rand, daughter of the late Joseph Martin-Alves and Lilian Olive Martin-Alves [nee Gumbs], beloved wife of the late Graham Rand; loving mother of Anthony [Sabrina], Tracy [Jerry], Jennifer [Danny] and Michael [Melody]; sister to the late Malcolm [Marilyn] and Sherwin Alves in her 83rd year of 8 Keith Hall Estate, Warwick will be held at the Paget Gospel Chapel, Middle Road, on Saturday, November 18th at 1:00 pm.
Interment will follow at St. Anne's Cemetery, South Road, Southampton.
A viewing will be held at Amis Memorial Chapel & Crematory, Khyber Pass, Warwick on Friday, November 17th from 6:00 to 7:30 pm. Bridget is lovingly remembered and survived by her grandchildren Latisha, Tonae, Antonio, Xiulan, Xiumei, Juan, Marcus, Lillian, Juliana, Tyquan and Jacob; relatives Ida, Rena and Cynthia; special friends Helen, Sherry, Maria and Melissa and many other relatives and friends too numerous to mention.
In lieu of flowers, donations can be made to the Paget Gospel Chapel [account #: BNTB 20006060639365230]. The family wishes to thank relatives and friends and all who have given their condolences and well wishes during this difficult time.
You may view the service via live stream on www.twitch.tv/jroctv2000.