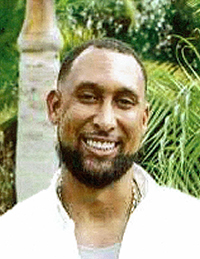 [AMIS Memorial Chapel & Crematory]
We regret to announce the death of Allan Jordan Scott Outerbridge, of Keith Hall Road, Warwick in his 38th year, loving husband to Krishunna S R Outerbridge, father to Kyrrah Kassandra Journee Outerbridge and step-father to Pri Amiyah Archibald-Richardson; dearly beloved son of Sandra Elaine Scott of Bermuda and Canada, and Lincoln William Outerbridge of Bermuda; brother to Hezekiah Lincoln William Lloyd Outerbridge of Canada and Bermuda;  grandson to Mabel Watson Scott [Grandma]of British Columbia and Percy Lloyd Scott [Grandpa] of Canada [deceased]; great grandson to Adriana Gladys Diolen Watson [Grams]of Dominica and Canada[deceased] and John Christopher Watson of Antigua and Canada [deceased]; great great grandson to Arthur Ciprian Hacksaw Scott of St. Vincent, Bermuda and Canada [deceased] and Anna Isabella Astwood Scott of Bermuda and Canada [deceased]; nephew to Pamela E. Scott [Alexander] of British Columbia. son in law to Lucinda J Archibald and Derek Landy; brother in law to Kemisha Parker, Bruno Parker and Kendall Archibald; uncle to Eden and Elijah Outerbridge and Jordan Parker. 
A graveside service will be held Tuesday, 4th May, 2021.
From his father: grandson to Mr. William A. and Marie Outerbridge; nephew to Joy Outerbridge and Carol Outerbridge; cousin to the Outerbridge clan Baileys Bay, Eve clan, The Minors, Bean, Tucker, Stowe, Taylor, Bascome, Hudson , Virgil, Robinson, Burchall, Simons and Scott families; god son to Marion Dismont and Conrad Zuill; special uncles: Rodman W and Bryan Talbot.
Close friends: Jamie Ford, Lyle Butterfield, John Glasgow, Genghis Ebbin, Rasheed Durant, Kurt [Blow] Faries, Micheal [Bird] Robinson, Cotori [Colt] Rewan-Rattery, Zabes Trott, Jakai Morris, Alex [Black] Raynor, Asir Lowe, Shaun York, Kenneth Durant, Ki-Jah Butterfield, Lari [Waka] Scott, the late Danshun Swan, Staff of Link Bermuda and many more too numerous to mention. 
Please adhere to Covid-19 restrictions by wearing of mask and social distancing.