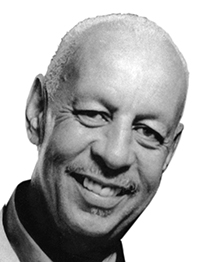 [AMIS Memorial Chapel & Crematory]
We regret to announce the death of Kenneth Neil Paynter Sr, beloved husband of Sharil Paynter, son of the late Burton and Maude Paynter [nee DeSilva], loving father of Kenneth Neil Jr, Andre, Barbara Ann and Sharneil Paynter.
He is survived by sister: Anne Webb; grandchildren: Nzari and Imani Paynter, Sage' and Shye Blair-Paynter, S'Nova Paynter, Daniel and Eden Mallory; great-grandson Kairo Talbot; daughters-in-law: Renee Foggo-Paynter and Terry Paynter; mother-in-law: Barbara Burgess; sisters-in-law: Debralee and Donna Mae Burgess, Sandra And Kelly Paynter; brothers-in-law: Kenneth "Buddy", Wayne and Gary Wolffe; special friends and extended family: Reginald "Brownie", Deena Broadley and family, Edwin Cannonier and family, Clarence "Tuppence" Parfitt and family, Gary Darrell and family, Eugene "Sparks" Gilbert, Pam Ben, Gary Caisey, Albert Fox, Sandra Caisey and family, Winslow "Bronkie" Minors and family, Melvin and Carolyn Gibbons, the Rayner family, Latif and Fouad Laroussi, Cathy Landolfi and family in the US; special aunts: Lois Parfitt, Gretchen Brangman, Alvera Darrell; special nephews: Roderick Paynter, Nelson Smith, Colin Webb and John Parfitt; many friends here and abroad, the St. George's community and Community Clubs across the island, Wellington Rovers and St. George's Youth Club teammates, East End and St George's Secondary School classmates, the Esso Bermuda family, many nieces, nephews, godchildren, adopted children, adopted grandchildren and relatives too numerous to mention.
Neil was predeceased by siblings: Burton Paynter Jr, Roderick Lynn Paynter Sr, Daphne Nair and Glenda Maduro; father-in-law: Kenneth "Bally" Wolffe Sr; brothers-in-law: Arthur Webb and Ralph Burgess; special nephews: Michael and Jason Paynter; niece: Shirley Webb; very close friends [brothers]: Peter Williams, Daniel "Bubba" Trott; father figure: Arnold "Bosun" Caisey.
A private family service will be held.