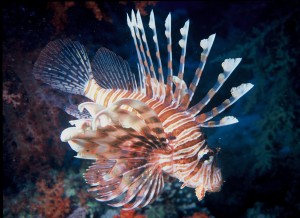 Florida is taking a page out of Bermuda's cook book and adopting an "Eat 'em To Beat 'Em" approach to solving the lionfish problem — with an environmental group issuing a collection of recipes for preparing the invasive Pacific species.
Bermuda Lionfish Project coordinator Chris Flook has been encouraging Bermuda restaurants to add the fish to their menus – and Bermudians to add it to their diets — since  the colourful fish boasting a "mane" of poisonous spines was first spotted in local waters.
"This is a fish you can feel good about eating," Mr. Flook told the "Bermuda Sun" last year, adding he would like to see local fishermen target the fish commercially. "The only way to make it a self-­running programme without investing a ton of money is to create a commercial fishery. Eat 'em to beat 'em.
"It's an easy fish to catch and it is only ­beneficial to remove them from the ­environment. There wouldn't be size restrictions or bag limits. Take as many as you want. What other fish can you say that about?"
Lionfish are native to the Indian and Pacific oceans. Six of the fish are believed to have been released from a Florida aquarium during a hurricane and since 2000 they have spread up the Eastern seaboard of the United States and the Caribbean — the first time a western Pacific fish has populated the waters of the US. Atlantic coast.
They are exploding in population in the Bahamas where they have devastated the eco-systems of that island nation's coral reefs. Three-quarters of a reef's fish population can be killed off in just five weeks by these exotic but venomous fish according to marine scientists.
Cooler waters off the island along with the work of a dedicated Bermuda Aquarium, Museum & Zoo Lionfish Project have so far spared Bermuda similar damage to its coral reef. But Mr. Flook believes the best way to ensure the fish's numbers are kept down in local waters is to turn it into a staple in Bermuda restaurants.
Jean Claude Garzia, head chef at the Beau Rivage restaurant at the Newstead Resort, is among the local restaurateurs who has been converted to Mr. Flook's cause, telling the "Sun" once the spines have been removed "the meat is as good as a grouper — light, white, not too strong. I would put it on my menu."
Now Key Largo-based Reef Environmental Education Foundation — inspired by Mr. Flook's campaign to transform the predatory fish into a delicacy — has issued a cook book containing 45 recipes for preparing lionfish.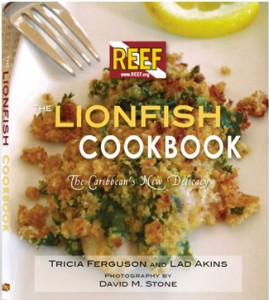 "Invasive lionfish are a new threat to western Atlantic, Caribbean and Gulf of Mexico waters," said REEF this week.
"With voracious appetites and few native predators lionfish impacts to native marine life are likely to be severe.
"That lionfish are delicious table fare with a delicate buttery flavour may be our best hope for helping to remove the fish and minimise its impacts.
"As Bermuda has so aptly said, we need to 'Eat 'em to Beat 'em'!
"This book is a unique blend of recipes, background on the lionfish invasion and its impacts as well as information on how to safely catch handle and prepare the fish."
Proceeds from the sale of this book will support REEF's marine conservation and Lionfish research and removal programmes.
The cook book can be ordered from the Florida conservation group's website.
Interview with Chris Flook courtesy of Alex Scrymgeour.
Read More About
Category: All, Environment