There is a protest march getting underway this afternoon [July 18] with people gathering at the hospital on Point Finger and planning to march to the BIU Headquarters on Union Street to protest the future closure of the Continuing Care Unit [CCU] at KEMH.
Some family members of patients in the CCU were contacted and told about the event, which is using the theme of "Save our patients and save our staff."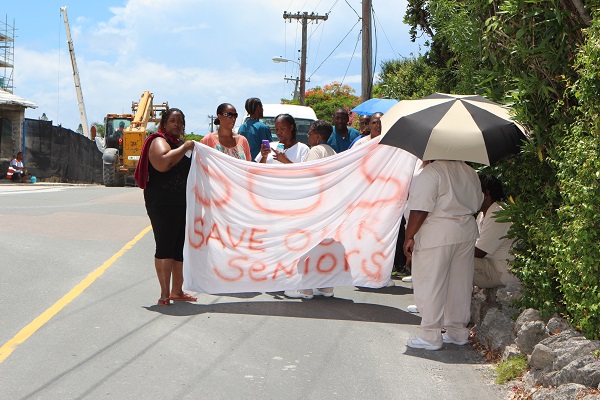 Minister of Health and Seniors Patricia Gordon-Pamplin previously said that "If the CCU closes, it will not be in the next few days, the next few weeks or even the next few months. Any closure will be done over the course of at least two years."
"Proper and acceptable residential facilities will have to be found for both the seniors and the young disabled – and the planning for this will not take days, weeks or months but literally years," said Minister Gordon-Pamplin.
"I understand that the staff at the Hospital (especially those who provide service at the CCU) are concerned that they will be out of work. In this regard, I think it's important to acknowledge and remind everyone that the BHB management has already included the Unions in discussions about the financial position of the BHB," said the Minister.
"In addition, the vast majority of the CCU staff are Unionized, and their Union agreements set out the details of what has to be done if and when a service is discontinued. I know that the BHB management team are entirely familiar with the Collective Agreements and will abide by their provisions."
As of 12.30pm there were about two dozen people present. The organisers said they were disappointed with the turnout, and noted that many of the employees are here on permits and said if they lose their jobs they will go home.
"We don't have the option of going home," said one staffer. "We are home."
One of the organisers said that they had talks months ago and they were told that the CCU was not closing, and then woke up this week to read media reports saying otherwise.
"We work hard for our patients, we are going to stand firm and we are going to stand together and we are going to fight this. Because where are these patients going to go?" said one of the organisers.
"We have special patients with Alzheimers and dementia, there is nowhere in the community for  Alzheimers and dementia patients to go. So we need to fight this…"
She said the staff is not getting the answers they need, and they hope to get the answers today.
Read More About