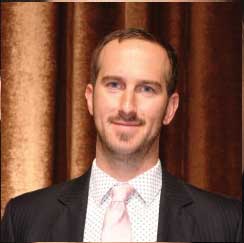 yCompliance will present the 2nd Annual Financial Crime & Compliance Seminar at the Fairmont Southampton in Bermuda on October 9, 2014.
Virtual currencies expert Brian Stoeckert [pictured], JD, CAMS, CFE, will address attendees at this year's Financial Crime & Compliance Seminar and will walk them through the "C" change for virtual currencies, understand the nuances of Bitcoin, how Bitcoin companies operate, and address the associated risks.
yCompliance said, "Virtual currencies stepped out of the shadows and into to the forefront in 2013 and into 2014. In a lot of jurisdictions, virtual currency companies are classified as money transmitters, which changed the landscape in the space forever. Thus, Compliance became an integral part of the ecosystem.
"Brian Stoeckert is a Principal at FC Strategy Group in New York and serves as the Chief Strategy Officer at CoinComply, a digital currency consultancy, that works with seed-stage, early stage, and later stage digital currency companies, accelerators, venture capitalists, law firms, investment firms, and financial institutions on Bitcoin compliance.
"Enforcement actions involving virtual currencies, including Bitcoin, have reached the headlines, numerous hearings by governments, and became prominent in regulatory and legal risk circles.
"For this year's seminar, the keynote addresses will be made by former Enron CFO Andrew S. Fastow, former Turks and Caicos Attorney General Huw Shepheard and other distinguished personalities.
"As one of the world's most reputable offshore financial centers, Bermuda is home to many foreign companies who operate under the British Overseas Territory's robust financial legislative framework. The theme for the 2014 seminar is "Who can you trust?"
"Given Bermuda's current political climate and Government's continued battle to combat financial crime, this seminar is one of the key initiatives to position Bermuda at the forefront of action against bribery & corruption and other financial crimes.
"The seminar program as well as the full profiles of other confirmed speakers and panelists can be retrieved at ycseminars.com. Early-bird tickets are priced at BM$395 before 31 May 2014. More details about the seminar as well as registration and sponsorship information can be found on the yCompliance website or by emailing info@ycompliance.com."
Read More About