The petition calling for a referendum on casino gambling was presented to Premier Michael Dunkley and Opposition Leader Marc Bean today [May 30] at the House of Assembly, with the Premier thanking the organisers for the petition, while stating that "there will be no turning back on the referendum."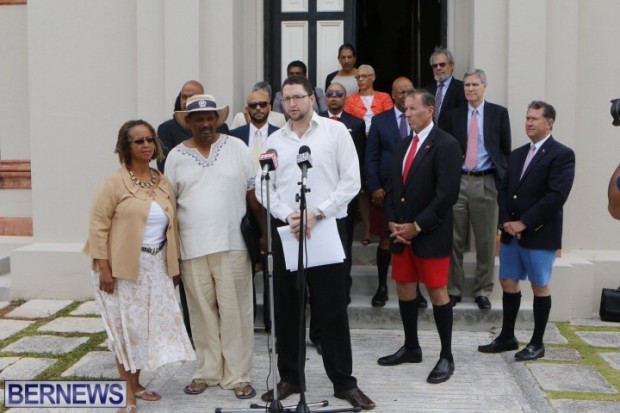 During the run up to the 2012 General Election, the One Bermuda Alliance pledged to hold a referendum on casino gambling in Bermuda, and in November 2013, the Government tabled the Referendum Act 2013.
However in December 2013 then Premier Craig Cannonier announced that instead of holding a referendum on gambling, the matter will be decided by a vote in Parliament.
Earlier this year a group — consisting of including former Independent political candidate Jonathan Starling, former UBP Leader Kim Swan, BEST Chairman Stuart Hayward and Michael Ashton — announced a petition drive calling for a referendum to be held.
The petition — which the organisers vetted to remove any duplicates and/or names of people who are not registered to vote — contained some 2,000 signatures.
10 minute video of today's presentation:
Mr. Starling spoke as did Mr. Swan, Mrs Swan, Premier Michael Dunkley and Opposition Leader Marc Bean.
Cindy Swan referenced the incident in February of this year where a "hot mic" caught Michael Dunkley — then the Deputy Premier — saying "Starling, Kim Swan, and Cindy Swan, were talking to ZBM on camera for about ten minutes, and I thought to myself, 'what a waste of f****** film."
Mrs Swan said, "If I had F-ed off a policeman I probably would have been taken to task and been taken in. But the former Deputy Leader can F a female off and not have the courtesy or do the honourable thing.
"He is very lucky my father has passed," added Mrs. Swan, "As he would come down from wherever he was and take care of him personally."
Premier Dunkley said, "This Government was elected to lead. This Government was elected to listen and take advice from people and, after we take that advice we have to make decisions.
"I can tell the people of Bermuda very clearly, that we all know we're in a real mess here in the island, and we all know we need some strong leadership, we intend to provide that and move this island forward.
"There will be no turning back on the referendum. We have got to move forward," added the Premier, who declined to comment on Mrs. Swan's remarks.
Opposition Leader Marc Bean said, "The fact of the matter is on December 13, 2013 the people of this country had that democratic right stolen from them. And as you just heard, apparently the Government has no intention of restoring democracy to the people of this country."
Noting that there are Parliamentarians from both sides of the aisle who support the introduction of casino gambling, Mr Bean said, "The fact is we cannot have political expediency and the robbing of democracy to get to that goal. A house built on sand surely will fall at some point and time."
Read More About