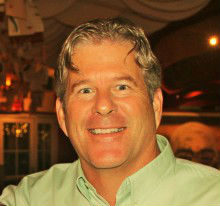 'Island Flames'  – the best-selling book about the 1977 riots — is set to be turned into a film thanks to a collaborative effort between director Lucinda Spurling, writer and actress Liana Hall and filmmaker, and photographer and former broadcast-news journalist Alia Hamza.
The book, released to the public on October 21st 2015, sold out within 20 days. Now in its second printing, the book continues to be a best seller at local bookstores.
A filmmaker collaborative, Afflare Films Ltd., consisting of the award-winning director Lucinda Spurling; writer and actress Liana Hall; and filmmaker, photographer and former broadcast-news journalist Alia Hamza have entered into a screenplay contract to write a full length film version of Island Flames.
Lucinda Spurling, owner of Afflare Films, said, "In the film industry, the screenplay is the commodity and is essential before any prospective producers and movie-investors become contractually engaged to convert the screenplay into a successful feature film."
Island Flames Ltd. President, Jonathan D Smith [pictured above] said, "Island Flames, and the story about Bermuda that it tells, has the fundamental elements to become a successful international film.
"It is essentially a triumph out of tragedy story, with moral issues, murder, social uprising, intrigue and elements of a political thriller," added Mr Smith.
The filmmaker collaborative brings together creative talent from several disciplines with experience of producing award winning films.
Several of Lucinda Spurling's films have gained international exposure and recognition, including her award winning documentary based on Jonathan Smith's book, 'In the Hour of Victory' which won major awards at international film festivals in the USA and UK in 2013.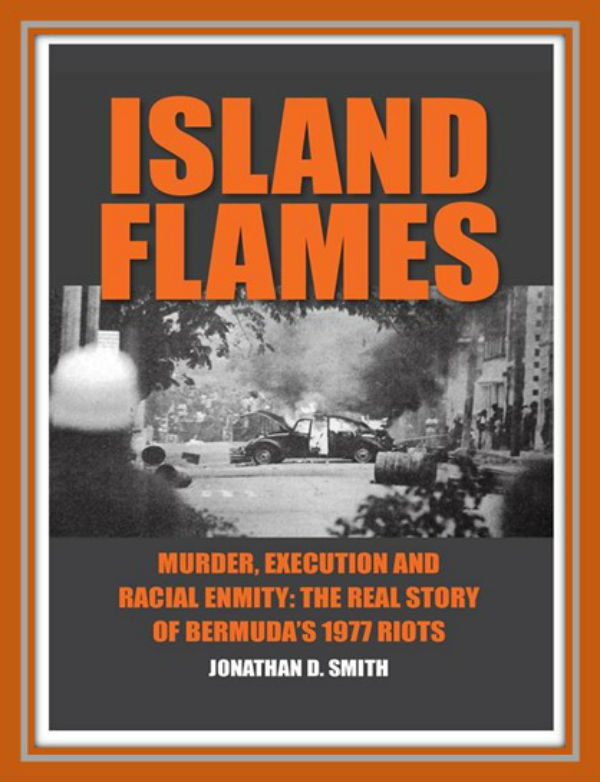 "The film version of 'Island Flames' has significant potential for putting Bermuda on the map as a film production site and will realise considerable employment benefits and injection of foreign capital at the production stage," a spokesperson said.
"The philosophy behind Island Flames Ltd., Afflare Films Ltd, the filmmaker collaborative are wholly consistent with the Bermuda Tourism Authority's [BTA] recent pronouncements on a local film industry.
"The BTA is promoting Bermuda as a film location destination and will join the Association of Film Commissioners International at the 2016 Locations Expo to promote Bermuda as a photo and film destination. Last month, work on the screenplay received a financial boost of $10,000.00 from Government's Cultural Legacy Fund, which will help to meet some of the cost of the screenplay contract."
Mr. Smith added, "We have the opportunity to produce this dramatic Bermudian story on an international scale with overseas partners. The all-Bermudian team is working on the screenplay and I'm confident in the vision that the compelling story of Island Flames can find a place in the global film marketplace.
"This Bermuda story of injustice, struggle, racial discrimination, transformation and reform, resonates universally. We are grateful that the Cultural Legacy Fund shared our vision."
Alia Hamza, Lucinda Spurling, and Liana Hall: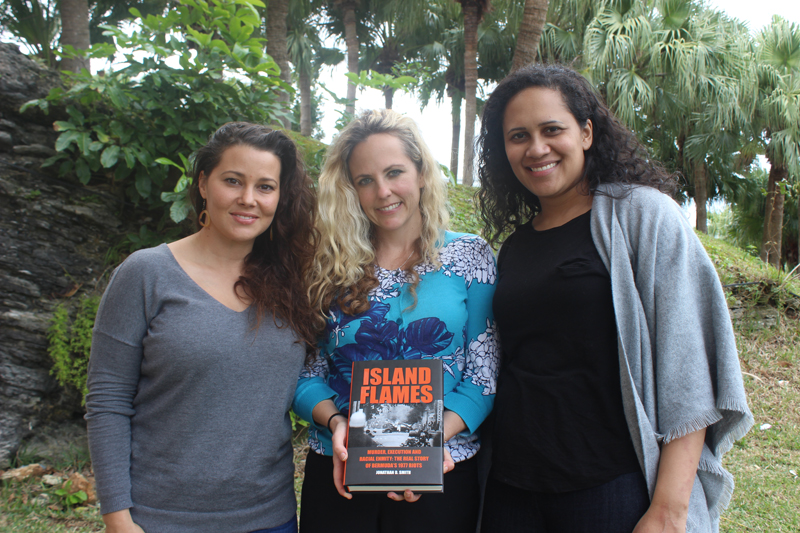 Ms. Spurling said, "True stories crowd the Oscar podium every year and we are convinced there is room for Bermuda."
Alia Hamza said, "What an incredible opportunity Bermuda has to tell its story to the world at large.  Gaining an understanding into the intricacies and influences of the period of history encompassed in Island Flames is, in my opinion, not only fundamental to understanding the Bermuda we now live in and thus ourselves, but also, to better understanding the dynamics of power and struggle. I feel grateful to be a part of such an incredibly important project".
Liana Hall said, "There is an increasingly vocal demand on the international scene for films of a diverse nature, specifically those that deal with issues facing minorities. Such subject matter allows for the involvement of actors and filmmakers who have historically been mostly excluded from these productions.
"The momentum in Hollywood for such stories and minority involvement is growing in force and the Island Flames team is committed to bringing this Bermudian story with universal themes to a wider audience."
The screenplay is due for completion later in 2016 and efforts to engage with production and investment partners will commence shortly thereafter.

Read More About
Category: All, Entertainment, Films/Movies, News