Competition resumed today [June 18] in the America's Cup Match, presented by Louis Vuitton, with Oracle Team USA looking to seize back the advantage gained by Emirates Team New Zealand on day one.
However, it was day two to the Kiwis again, with Emirates Team New Zealand recording two more back-to-back victories over the Defenders of the America's Cup, putting themselves 3-0 up in the first-to-seven series that will determine the winner of the 35th America's Cup.
After racing had finished on day two, Jimmy Spithill looked ahead to the five day break before racing restarts on 24th June and what Oracle Team USA can do to put themselves back in the fight. "These are going to be the most important five days of this America's Cup campaign for us," said the two-time winner of the America's Cup.
"I thought we took a good step forward from yesterday, but it is clear we have to find some speed from somewhere, that is no secret.
"If we were forced to race day after day we'd be in some serious trouble at the moment. This break coming up is a massive opportunity for us as a team to go away and regroup.
.
"Everything will be put out on the table, nothing will be off limits, and over the next five days our incredible shore team will be looking at every aspect of our boat.
"Nothing will escape our eyes, I can guarantee that. Whether it's system related, appendage related, sailing technique or strategy, we are going to look at absolutely everything.
"The motivation is always there, the team is hungry and we're a very competitive group, but we are also a candid group and it is quite clear we need to make some changes.
"We feel that with the resources we have here we can make the changes to improve the boat and give us more speed. It looks like we have some good sailing days coming up over these next five days so we'll be into 24 hour shifts.
"We've been in a situation like this before and we've had less time. We've got five important days and we'll be using every single hour of them. We have to respond."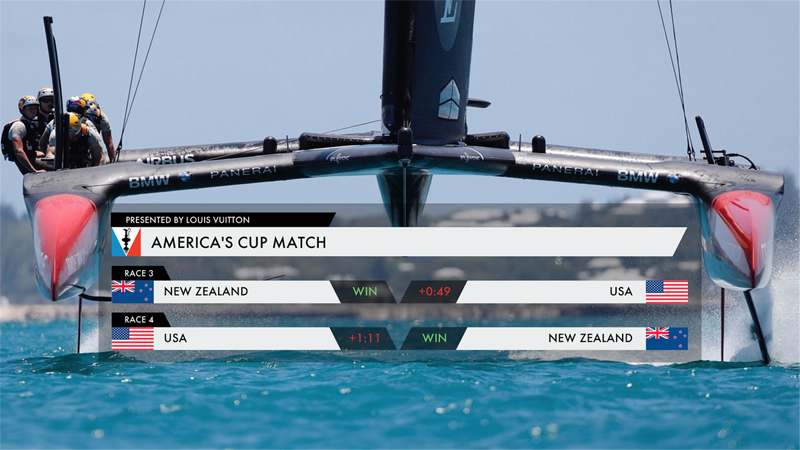 In reply, despite knowing that repeating the opening weekend's performance when racing resumes on 24th June would confirm Emirates Team New Zealand as the 35th America's Cup champions, Burling again warned his team against complacency.
"We are walking away with two victories again but, much the same as yesterday, we made too many mistakes," said the Kiwi helmsman.
"We now have five days to keep pushing on and progressing because everyone in this team is hungry to keep on improving and learning.
"We know full well if we stand still, Jimmy [Spithill] and Oracle Team USA will catch us so we have plenty of work on in the next five days.
"We're happy to take those four wins because it is no secret that we are here to win the America's Cup. We knew to do that we had to win eight races and so we have to keep on battling to ensure that is what we do."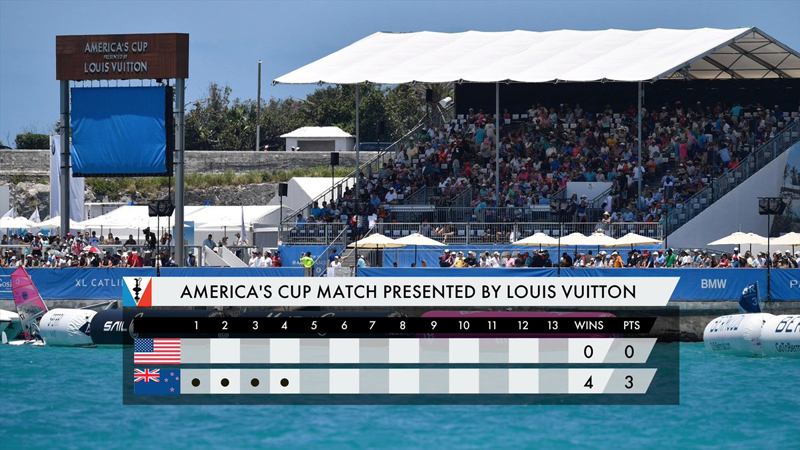 Race Three
Race three saw Peter Burling and Emirates Team New Zealand pick up where they left off on day one, sealing a third consecutive victory over Jimmy Spithill's Oracle Team USA to extend their advantage in the America's Cup Match, presented by Louis Vuitton to two points at the halfway stage of day two.
At the start of the race, both teams were extremely close as they crossed the startline, and Oracle Team USA had a small advantage as they approached the first mark. However, in similar scenes to day one's two races, a small mistake was to prove pivotal as a poor jibe by Oracle Team USA saw the American boat make a small splashdown into the water, resulting in a loss of momentum that they were then unable to claw back.
That mistake handed the initiative to Burling and he seized the opportunity, sailing clear of his rival to hold an 11 second lead at gate two.
Trailing the Kiwi boat, Spithill went for the split at the gate as he chased hard in pursuit of Burling, winner of the Red Bull Youth America's Cup in 2013. However, Emirates Team New Zealand continued to showcase their impressive speed and steadily increased their advantage through the next two gates, holding a 49 second lead by leg 5/7.
Spithill's Oracle Team USA continued their pursuit, in the hope of a mistake from their Kiwi rivals in the closing stages. However, it was not to materialise.
Burling kept his composure, rounding the fifth gate with his 49 second advantage intact, and from that point there was no looking back Emirates Team New Zealand crossed the finish line nearly a minute ahead of the US team and Burling claimed his third victory on the trot in the America's Cup Match, presented by Louis Vuitton.
Race Four
This started in almost identical fashion to the first race, with both teams racing extremely closely to one another as they crossed the start line, quickly accelerating to around 40 knots as they headed towards the first mark.
Both teams essentially had faultless races, but the superior boat speed of Emirates Team New Zealand proved the deciding factor, the Kiwis pulling away throughout the race to build a lead of 500 metres heading towards the fifth gate.
Emirates Team New Zealand rounded Gate 5 with their advantage standing at a minute, with Jimmy Spithill only able to watch on in the hope of a mistake from his rival Peter Burling, but it was not to be.
At the end of race four it was Emirates Team New Zealand who were celebrating again, finishing the day with two more points on the leaderboard and clear air between them and Oracle Team USA.
America's Cup Match, presented by Louis Vuitton, Race Results
Race Three: Emirates Team New Zealand beat Oracle Team USA by 49 seconds
Race Four: Emirates Team New Zealand beat Oracle Team USA by 1 minute and 12 seconds
America's Cup Match, presented by Louis Vuitton, Scores [18th June 2017]
Emirates Team New Zealand: 3 points*
Oracle Team USA: 0 points
*New Zealand started the America's Cup Match -1 due to the USA's win in the Qualifiers
Click to enlarge photos:


Read More About