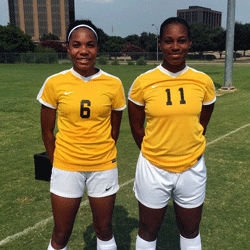 On the final day of conference play, Deshae Darrell, Micah Pond and their Brookhaven College Women's Soccer teammates went into the match against North Lake College as the number two team in the conference, earning a 4-0 victory.
The team opened the scoring in the 12th minute when Savanna Hernandez weaved through the North Lake defense slotted the ball home.
Darrell was next up on the scoresheet in the 27th minute when Taylor Reyes floated a through ball for Darrell to finish with a one time shot. It didn't take Darrell long to strike again, two minutes later she was played in by Julie Ortega with some good link up play and finished with a precise shot.
There would be no more scoring until 75th minute when Taylor Reyes got herself on the scoresheet. Reyes made a great run down the left flank, cut inside and unleashed a thunderbolt that found the back of the net and gave Brokhaven a 4-0 victory.
With the game over and Brookhaven needing 3rd placed Eastfield College to beat 1st placed Richland College the wait was agonising as those two teams played later. The news finally came through that Eastfield defeated Richland 2-1, earning Brookhaven College their first ever MAC Conference Region V Championship.
Brookhaven assistant coach Robert Williams said, "Deshae and Micah have been a revelation here at Brookhaven. Deshae has finished off the conference as our leading goal scorer with 15 goals and Micah has been our best midfielder with her skill, guile, vision and overall hard work.
"Now we have it all to play for next week in the MAC Conference Region V Tournament which we won last year."

Read More About