[Updating] The OBA is holding their Party General Conference and Elections this evening [Nov 18] with five positions up for election: OBA Party Leader, Deputy Leader, Party Chairperson, and two Party Deputy Co-Chairpersons.
Earlier this week, the OBA confirmed that Jeanne Atherden, Craig Cannonier, and Patricia Gordon-Pamplin are standing for OBA Leader, while Leah Scott is the sole candidate for Deputy Leader.
Simone Barton and Senator Nick Kempe are standing for Party Chair, while Justin Mathias and Senator Nandi Outerbridge are standing for the Party Deputy Co-Chairperson positions.
The meeting is being held at Vasco Da Gama in Hamilton, and all three leadership candidates were seen arriving earlier in the evening.
People have been seen coming and going from the building, and some of those seen arriving — while we were present — included Deputy Leader candidate Leah Scott, Senator Nick Kempe, Justin Mathias, MP Dr Grant Gibbons, MP Cole Simons, MP and former Premier Michael Dunkley, former Deputy Leader Bob Richards and more.
The results are expected in later this evening, and we will update as able.
Update 10.11pm: People are starting to leave Vasco, we have seen people include Mr Cannonier, Justin Mathias, Ms Scott and Senator Kempe leave so far and they seem to be heading across the street to OBA headquarters. No official results have been provided yet.
Update 10.29pm: Jeanne Atherden has been elected the new leader of the OBA winning 90 votes [37.3%] to defeat Patricia Gordon-Pamplin who won 82 votes [34%] and Craig Cannonier who won 69 votes [28.6%].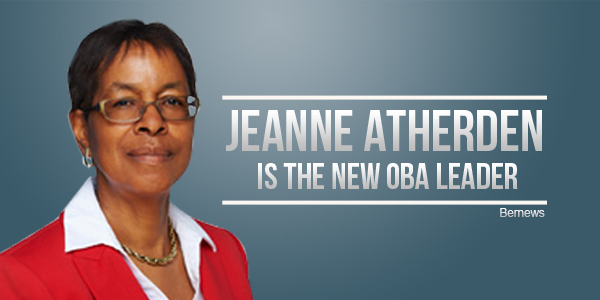 Leah Scott is the new Deputy Leader by acclamation, the Chairperson election saw Senator Nick Kempe win, earning 177 votes [73.4%] to defeat Simone Barton who received 65 votes [26.7%], while Justin Mathias and Senator Nandi Outerbridge are the Party Deputy Co-Chairpersons by acclamation.
The official results: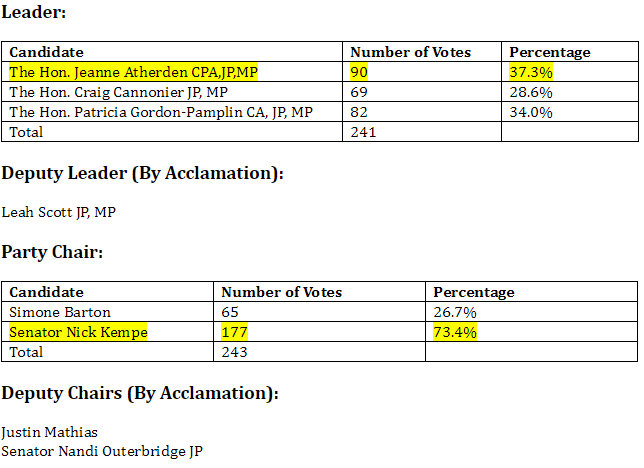 Update 10.44pm: Leah Scott, the new OBA Deputy Leader, says she is excited to hold the position and the OBA plans to rebuild.
Leah Scott says she is excited to be the OBA Deputy Leader, and said they are going to rebuild | #Bermuda | https://t.co/Uw3fGkwEwW pic.twitter.com/dA2uRLYYYD

— Bernews (@bernewsdotcom) November 19, 2017
Update 10.57pm: The newly elected OBA Leader Jeanne Atherden pictured with the newly elected OBA Chairman Senator Nick Kempe this evening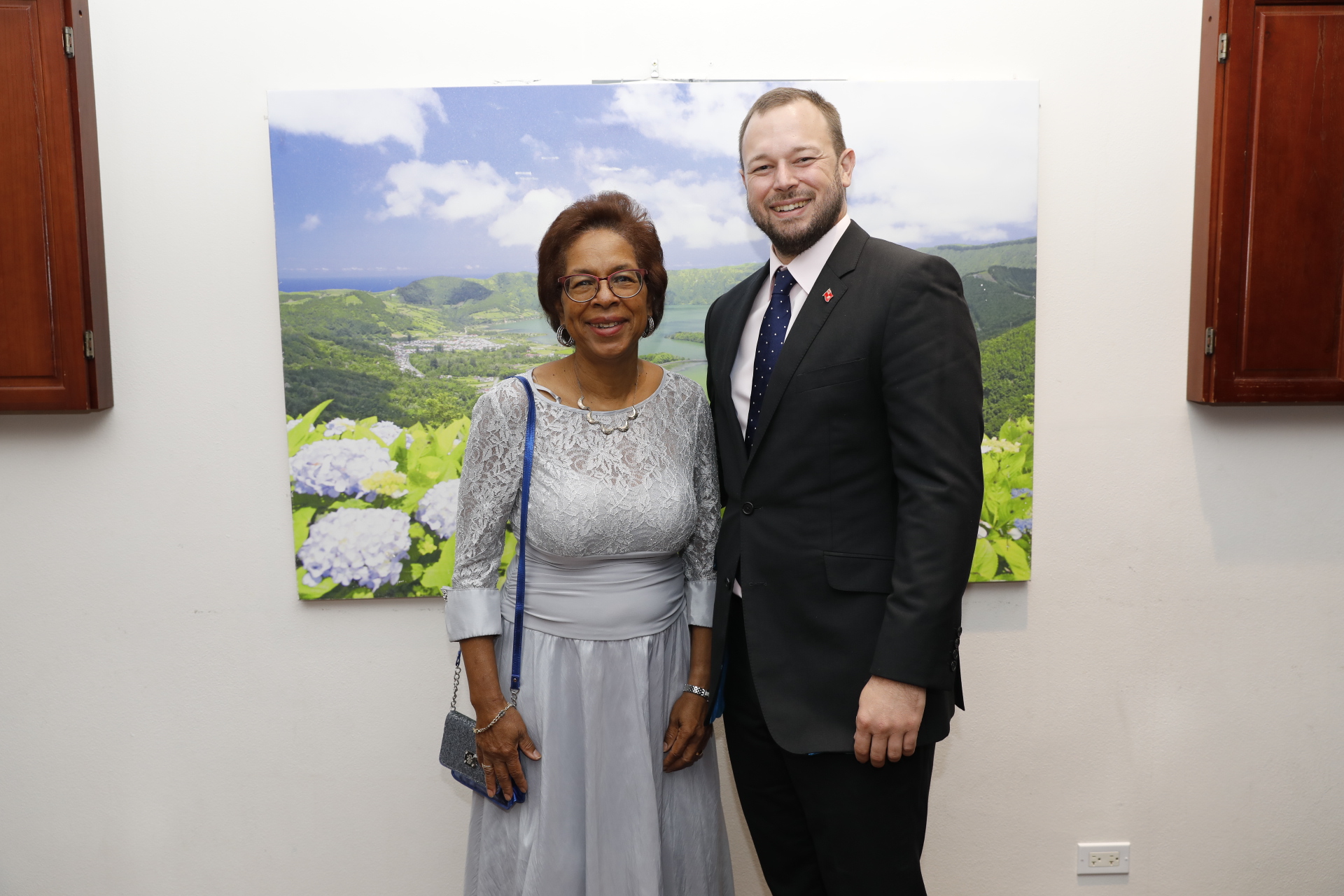 Update 11.11pm: Speaking after the election, Ms Atherden said, "We can get on with building our team and becoming the Opposition that Bermuda needs. Because going forward, you want us to be a viable, robust Opposition because that helps the Government stay focused on its job, and it makes sure that Bermuda gets the type of Government that it needs."
"Together, we will be able to rebuild the party and make people appreciate the fact that we want to do things for Bermuda. We all, when we came together from the very beginning, it was one Bermuda working for all Bermudians. And that's still our vision. That's still the values that we hold."
Asked about the next election in a few years, Ms Atherden said, "We have to get started right away because there's no time to waste.
"We have to reconnect, and we have to turn around and build the structure and get the people to come back into the room and then turn around, work on making sure that we listen, that's a big thing that has to happen, we have to listen to what the people of Bermuda are telling us.
"And then we have to explain to them what we're going to try and do about it, because it's a two way street. It's never a one way street, it's a two way street."
Read More About