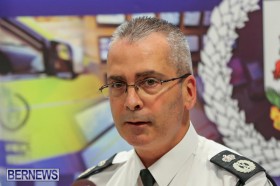 [Updated] Saying that has been "deeply rewarding to serve the community as a police officer," Commissioner of Police Michael DeSilva has confirmed that he plans to retire from the position.
Commissioner DeSilva said, "It was not an easy decision to retire and leave a career of over 32 years in the making. I am passionate about policing and I have dedicated my entire adult life to public service.
"I am grateful to all of my colleagues, past and present, for their support and commitment during my tenure. It has been an honour and a privilege to lead so many dedicated and skilled police officers, support staff, reserves, and cadets.
"I am proud of the significant impact we have made in helping to reduce violence, but there is more to be done. After 8 years as Commissioner it is the right time to let someone else lead the BPS from its senior post, and continue the mission of 'Making Bermuda Safer.'
"The time is also right for me to move on to the next chapter. I selected the 15th June so that I can complete my term as President of the Association of Caribbean Commissioners of Police [ACCP] in May, followed by my last official duty at the 2018 Queen's Birthday Parade.
"It has been deeply rewarding to serve the community as a police officer. The experience has shaped my life both as a professional and as a person. I shall remember it fondly."
Update 7.52pm: Former Premier and former National Security Minister Michael Dunkley said, "Upon learning of the intended retirement of Commissioner DeSilva I wish to extend best wishes and deep appreciation for his tenure in service with the Bermuda Police Service, working his way through the ranks to become the Commissioner.
"Being the COP is a very difficult and demanding job. I recall clearly the day Commissoner DeSilva assumed the position when the community was rocked by violence. The responsibility never became easier but through it all he conducted himself and led the BPS with professionalism and dedication.
"Through my years in service as an MP, Opposition Leader, Minister of National Security [including as Co Chair of the Emergency Measures Organization with the Commissioner' and Premier, I have worked with Commissioner DeSilva on every level. I have always found him to be well prepared, calm and in control of every situation. He cares deeply about the community and his colleagues in the BPS. He also can display a sense of humor at the appropriate time.
"Bermuda is losing a very competent and accomplished public servant who served without fear or favor. I wish him the very best of health and happiness in the future and I am grateful for his advice and support during my time working with Commissioner DeSilva."
Update 10.33pm: "A consummate professional of unparalleled commitment to policing and the safety of Bermuda," the Minister of National Security Wayne Caines said today reflecting on the news from Government House of the retirement of Commissioner of Police Michael DeSilva.
"Since his appointment in 2009 the paradigm shift in policing Bermuda has been led head-on by Commissioner DeSilva. Successive ministers and governments have benefitted from his counsel and perspective on a variety of issues and at no time have I known him to give other than his very best for Bermuda."
The Minister continued, "Michael DeSilva brought the invaluable local knowledge and understanding to complex social issues that have confronted the Bermuda Police Service during his tenure.
"As the process is now initiated for his successor, like every citizen in Bermuda, I too look forward to a fair, open and transparent process that will identify a Commissioner who can continue to build on the foundation provided by this exemplary tenure."
Read More About