100 Women in Finance [100WF] has donated the balance of its $24,000 contribution to Bermuda's 2017 beneficiary, the Centre Against Abuse [CAA].
A spokesperson said, "The donation was raised at June's inaugural Bermuda gala held at Commissioner's House in Royal Naval Dockyard, and more recently, through 100WF's annual holiday networking Jingles and Jewels, this year held at Alexandra Mosher Studio Jewellery in Hamilton.
"The 2017 recipient of the Bermuda Economic Development Corporation's Entrepreneurship Client of the Year Award, Alexandra Mosher, generously donated over 30% of sales proceeds during the 100WF event to CAA."
Alison Morrison, Chair of 100 Women in Finance Committee, Laurie Shiell, Director of Centre Against Abuse, Gillian Kersse, Chair of 100WF Philanthropy Committee, Alexander Mosher, Sarah Demerling, Chair of 100WF Gala Committee: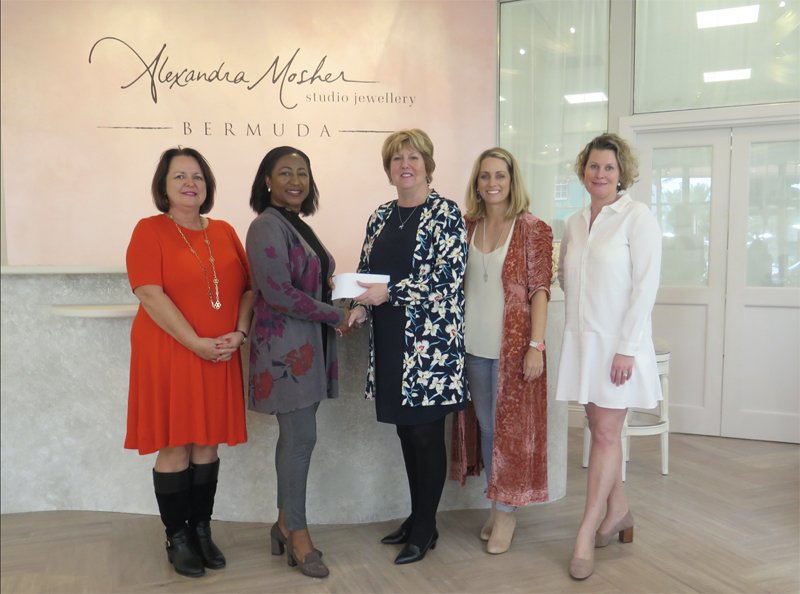 "100WF's donation of $24,000 directly benefits the CAA's programmes, providing crisis support services to adult victims of domestic violence and sexual assault and bringing awareness to the community by providing building blocks for healthy relationships.
"Members of Bermuda's financial services industries are invited to join 100WF by visiting https://100women.org/membership/become-a-member/. Events across 100WF's areas of focus of Education, Philanthropy, and Peer Engagement are planned throughout 2018, with members invited to attend A Seaside Chat with Meredith Whitney at the Bermuda National Gallery on Thursday, 15 February, 2018."
Read More About