A family said they found themselves privy to a rare sight as they paddle boarded close to Flatts Inlet recently, as a shark made a surprisingly close approach that they were able to catch on video, which went viral after being posted on social media.
Julie Compton told Bernews, "It was Monday afternoon, with myself and my husband Jim paddle boarding around Gibbets. We were approaching the island from Flatts Inlet and boarding just to the right of it. My husband spotted the fin and alerted me, thinking it was the wing of a ray."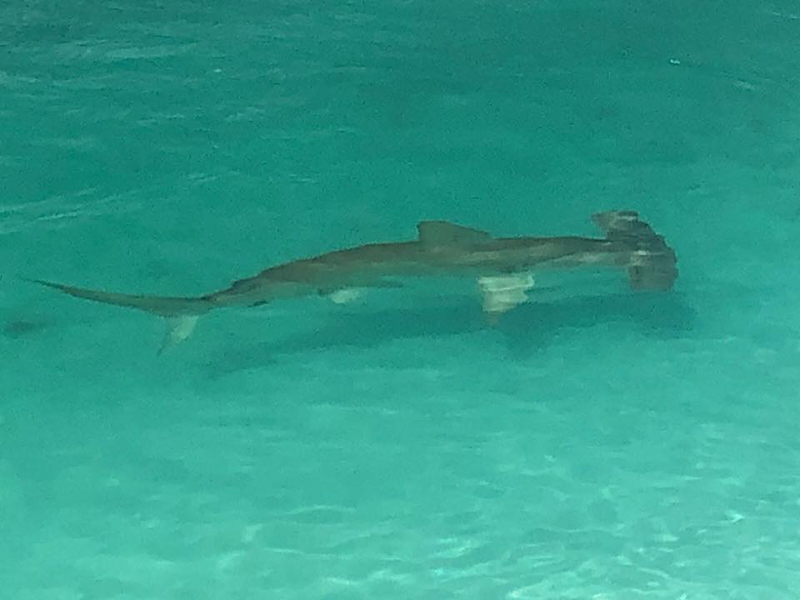 "Suddenly it came right toward us and we saw what it really was. It swam right between our two boards and then under.
"I was terrified…we carried on paddling faster round the island and back down Flatts Inlet to St James. We got out at our dock and went straight to tell our friends about it. As we were talking, I said, 'I don't know where it went, maybe it followed us back.'
"Immediately as I said it, Jim looked at the water and said, 'it's right there.'
"We called the kids to come and bring their phones as we had nothing on us. That's how we got the footage – my kids Maddy and Noah took it.
"The shark hung around in the inlet for a while, maybe 10-15 minutes just swimming around near us. A guy on a conservation boat came through so we told him and he saw it too.
"He said he thought it eventually went back out toward the sea rather than into the sound, but we can't be sure. My husband spoke to a guy at Dive Bermuda and he said in all his years diving here he's never seen one and that we were super lucky. We think it was around 6-7 foot long so probably quite a young one."
Read More About
Category: All, Environment, Videos