[Updated] According to an announcement posted today [Oct 31] on Arbitrade's website, they have "completed the acquisition of the Victoria Hall Building" which "will serve as Arbitrade Ltd. Bermuda World Headquarters."
The company announced back in July they were expecting the buy the building, and their announcement today said they will "make plans to renovate the building to house its global head office digital asset exchange."
The announcement said, "Len Schutzman, Chairman of Arbitrade Ltd., on behalf of its Board of Directors, announced today via its Agency of Record for Traditional and Non-Traditional Media, Creative Management Partners LLC [CMP], that the Arbitrade group has completed the acquisition of the Victoria Hall Building located at No 6. Victoria Street, Hamilton, Bermuda, which will serve as Arbitrade Ltd. Bermuda World Headquarters."
Photo via Arbitrade's website:
Len Schutzman, Chairman and Chief Executive Officer of Arbitrade Ltd, said, "This purchase represents Arbitrade's commitment to Bermuda as the world's leading jurisdiction in the digital asset space. The Company now proposes to make plans to renovate the building to house its global head office digital asset exchange.
"Once its subsidiary, Arbitrade Exchange [Bermuda] Ltd. is licensed under the Digital Asset Business Act 2018, it intends to commence its hiring process, which will create numerous training and employment opportunities for Bermudians. Arbitrade Ltd. is very excited about developing its long-term partnership with Bermuda for all Bermudians," Mr Schutzman added.
Tweet sent this morning from their official account: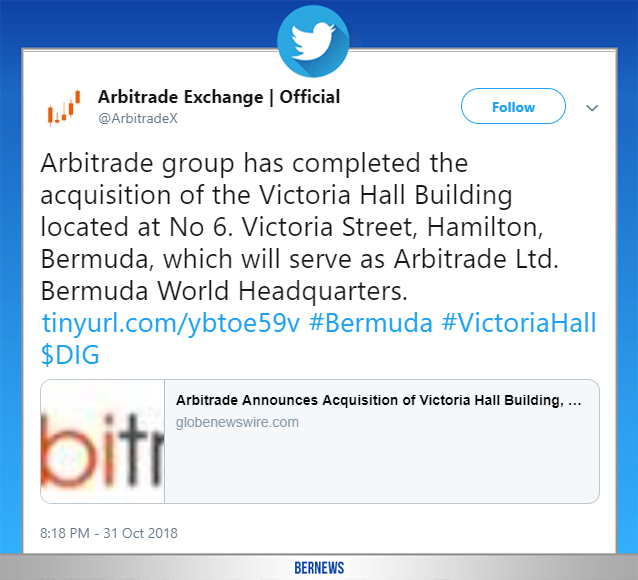 The building had been listed for sale earlier this year for $6.5 million.
According to the Government listings, there are three companies registered in Bermuda with the Arbitrade name; Arbitrade Exchange [Bermuda] Ltd, Arbitrade Ltd, and Arbitrade Property Holdings Ltd.
Update 5.02pm: Premier and Minister of Finance David Burt said, "The announcement of the purchase of Victoria Hall by Arbitrade represents confirmation of their commitment to Bermuda.
"Having submitted their application to purchase the building and subsequently passing all financial and background checks, it must be noted that the Registrar of Companies had no objections and the Chamber of Commerce have expressed their support.
"We thank Arbitrade for this tangible sign of commitment to Bermuda and look forward to further announcements as the island continues to set the pace for the world in Fintech."
Read More About