It's "always a privilege to captain your country," footballer Dante Leverock said, adding that qualifying for the Gold Cup for the first time is monumental as a "small nation which is punching above our weight."
From a 5-year-old who started crying when he was on the football field, to captaining Bermuda's team for their historic debut in the Concacaf Gold Cup, Dante Leverock has come a long way.
In explaining how he got his start in football, Mr. Leverock told Bernews, "I started at the age of five. Dandy Town Hornets..and I've told this story hundreds of time, my mom and my dad took me down to the field.
"I wanted to play football, and as soon as I go on the field, I started crying, and she said to me 'you got me up this early, you're going to stay on that field and you're going to play.' And ever since, I haven't put a ball down, I fell in love with it, and it's taken me very far in my career now."
Video interview with Mr Leverock:
The footballer — who plays professionally in the Irish Premier League — said, "It's always a privilege to captain your country.
"And even now, first time in history, making a Gold Cup is monumental for us, it's also monumental for the country and the next generation. It's important that we do well, represent ourselves well, the boys are buzzing and excited to go.
"We're a small nation and we're punching above our weight," he added.
In explaining the moment that Bermuda actually qualified for the Gold Cup, he said, "As soon as that final whistle went, I stood there and I think I just collapsed to my knees., and then once I got up, I think Dale Eve [Bermuda's goalkeeper] came and just hugged me. It was just an amazing feeling.
"I couldn't really describe it. The fact that us…65,000 people. This group, we've been together for a very, very long time, we all grew up together, we know each other, and to do that together and to create a history.
"It doesn't seem real yet," he added. "I think once that first whistle goes when we're there, I'll embrace that moment."
Mr Leverock and Bermuda's starting line-up before their recent match against Guyana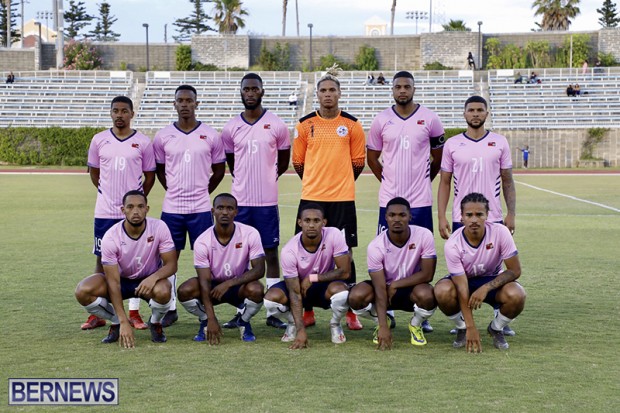 Bermuda's team includes Nahki Wells, Dante Leverock, Jonte Smith, Reggie Lambe, Dale Eve, Oliver Jalen Harvey, Calon Minors, Roger Lee, Kacy Milan Butterfield, Jaylon Bather, Lejaun Simmons, Donte Brangman, Chikosi Basden, Zeiko Lewis, Willie Clemons, Jahquil Hill, Osagi Bascome, Cecoy Robinson, Justin Donawa, Wendell Tre Ming, Liam Evans, Marco Warren, and Quinaceo Hunt.
The Gombey Warriors will take on Haiti on June 16th in Costa Rica, then Costa Rica on June 20th in Dallas, and then match up against Nicaragua on June 24th in New Jersey, and in an effort to provide comprehensive coverage of Bermuda's debut in this highly prestigious regional competition, Bernews has a dedicated reporter traveling with the team in order to bring all the latest action and insights, with the special coverage thanks to the support of Butterfield & Vallis, One Communications, and Bermuda Security Group.

Read More About