Dwayne "Sluggo" Leverock
Dwayne "Sluggo" Leverock is a Bermudian cricketer who caused an international media sensation at the 2007 World Cup. He is most well known for his dramatic diving one-handed catch, as well as taking the wickets of two top English cricketers.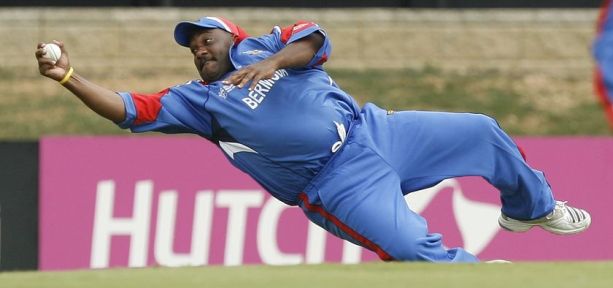 Combined with his imposing size [280lbs], his World Cup exploits propelled him to near cult status with cricket fans worldwide.
Mr. Leverock was featured in press reports by numerous international news organizations and hundreds of internet postings.
His size has often overshadowed his ability, but he has repeatedly been been one of Bermuda's best bowlers.
Born Russell Dwayne Mark Leverock on July 14, 1971 in Bermuda, he played with the Bermudian national cricket team in their first ever One Day International against Canada on 17 May 17th 2006.
He went onto play for Bermuda in 11 ODIs, and picked up the first five wicket haul by a Bermudian bowler in ODIs.
He has represented Bermuda in eight ICC Intercontinental Cup matches to date, with a best of 7/57 against the USA in 2004. He also played in the 2005 ICC Trophy, the 2004 and 2006 ICC Americas Championship and in the 2006 Stanford 20/20.
As a batsman, Mr. Leverock made his first half-century [51] against the Netherlands in the 2006 ICC Intercontinental Cup and made his second half-century [also 51] against the Netherlands in the 2007-08 ICC Intercontinental Cup.
Click to enlarge photos:
At the 2007 Cricket World Cup during a warm up game against England, Leverock took the wickets of two top English players; Paul Collingwood and Kevin Pietersen. This feat, combined with his size, had him headlining the British newspapers.
Britain's best-selling newspaper 'The Sun' had a full-page photograph of Mr. Leverock, 'The Daily Telegraph' put him on the front page, and 'The Times' had his picture filling half of the back sports page.
England captain Michael Vaughan praised Mr. Leverock's performance.
He bowled very well. Any spinner that drags Kevin Pietersen out of his crease, and does him in the flight, is a good bowler.
Against Sri Lanka, Mr. Leverock took the wicket of Sri Lanka wicket-keeper Kumar Sangakkara. Against India, Mr. Leverock's dramatic catch dismissed Robin Uthappa off Malachi Jones' 1st ball, video shown below:

-
In 2009 Dwayne Leverock announced his retirement. Cricinfo.com quotes Leverock as saying:
I can always hold my head up and know that I gave Bemuda everything I have. I'm speechless right now. I shed a few tears early this morning and late on after the game when we won. It's hard for me. This is what I love to do. It's all in my heart, but this is the right time.

There comes a time in your career when you need to take a step back. You've given all you can and your body sometimes tells you, with the aches and pains after games, that it is time to slow down. Even though my heart is still in it, the body says slow down.

It is time to take a backseat especially with the youngsters coming through.