Dr. Francis Landey Patton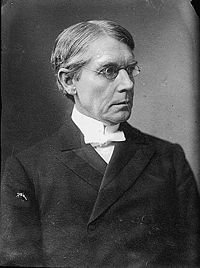 Dr. Francis Landey Patton was the twelfth president of Princeton University, one of the prestigious Ivy League Universities.
He was born on February 22, 1843 in Warwick Parish, attended Warwick Academy, and worshiped at Christ Church in Warwick.
He went abroad to school, and studied at Knox College, the University of Toronto, and graduated from Princeton Theological Seminary in 1865.
He was ordained to the Presbyterian ministry in June 1865, and served as a minister at various locations from 1865 and 1881, and as a professor at McCormick Seminary in Chicago from 1871 till 1881.
Mr. Patton was extremely conservative and highly opposed to the spread of liberal Christianity in his denomination; the Presbyterian Church.
He brought charges of heresy in 1874 against David Swing [a confidant of President Abraham Lincoln], and was prosecuting attorney at Swing's trial, a case he lost but gained a great reputation as a champion of orthodoxy.
In 1888, he was elected president of the College of New Jersey [which in 1896 became Princeton University]. His appointment was criticized by some alumni as Patton was not an American citizen, and others feared he would preach rather then teach. He eventually won over a large number of his detractors.
During Mr. Patton's time as university president, he appointed many prominent Princeton professors, including future American President Woodrow Wilson.
Mr. Patton announced the name change from "the College of New Jersey" to "Princeton University" in 1896.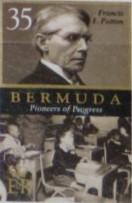 During his time in the United States, it was his custom to spend a portion of time back in Bermuda each year. He retired in 1913, and returned to Bermuda where he lived at Carberry Hill in Warwick. He died on November 25, 1932.
In 1950 the Francis Patton Primary School in Hamilton Parish was named after him, and in 2007 a commemorative stamp [pictured on the left] was issued in his honour as part of the 'Pioneers of Progress' series.
=l
=l